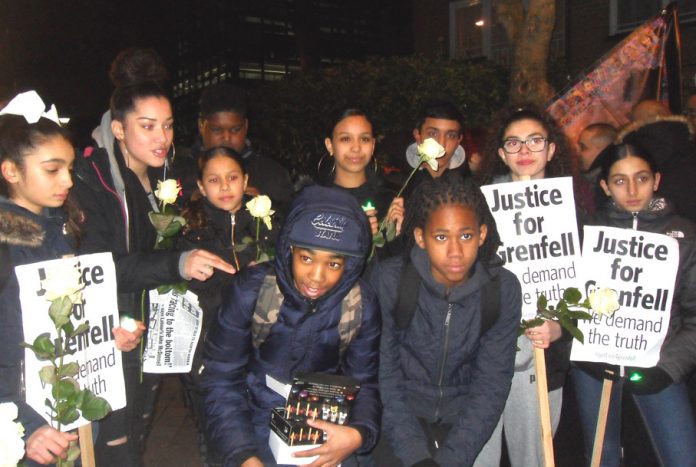 From daily News Line in Britain:
Monday, 18 December 2017

TWO THOUSAND MARCH IN SILENCE! – to mark six months since Grenfell fire disaster

OVER two thousand people silently marched through the streets of Notting Hill on Thursday night to mark the six months anniversary of the Grenfell Fire which took the lives of so many men, women and children.

There is a deep rooted anger in the community and society at large at the local council, the Tory government and the Tenants Management Organisation (TMO) as the fire was deemed by all as preventable.

Early in the day at a memorial service at St Paul's Cathedral Tory councillors from Kensington and Chelsea were banned from attending. During the silent march firefighters who fought with everything they had to save as many people from the burning building on the night lined up to shake hands and hug marchers as they passed.

As the march assembled News Line spoke to some of the families of those who had tragically lost their lives in the fire. Fatna Elbahja told News Line: 'We still have not got justice six months later, especially if you have lost loved ones. This was not meant to have happened. We are still in shock. Sometimes we do not believe it has really happened.

'Like a nightmare, it does not seem like reality. It was so unexpected. I lost my brother-in-law and his three children. My sister-in-law, she survived. She hasn't had a flat yet, she is still in a hotel. This is not fair.'

13-year-old Jana Rhimi added: 'One of my friends who survived the fire has been moved from place to place three times. Waking up in the morning and being told that you are not going to school because of the fire, and then the relief of finding out your friends are still alive but are in hospital and then realising that some of your friends have perished in the fire is too much.'

Suad Mohamed aged 15-years-old said: 'I saw the fire on the night. I live in a high rise myself and that night I felt worried that it could have happened to us. I honestly feel that this is a tragedy that should have never, ever happened. There were loads of precautions that should have been in place that could have prevented the fire. This was completely preventable.'

Local resident Adam Mohamed said: 'The truth is that before Grenfell, nothing was safe and secure. Everyone in social housing was living with substandard fire and safety levels. I work as a delivery worker and I have been to blocks in south, east and north London. It is only now that I see signs up for the fire exits, fire warnings and posters about what to do in case of fire. It is a shame that so many people had to die before they even started to act to make housing safer.'

Mary O'Brien, a local woman who has lived in the area for the last fifty years said: 'This could have been avoided if only they had listened to the people who lived here. It is very sad. It is very bad over here over social housing. They don't care about poor people. I could see the fire from my window. It makes me sad every time I think about it. I cry all the time.'

Yasmin Khalish came down to west London from Enfield to support the struggle for justice for Grenfell. She said: 'I come here nearly everyday and cook for the local residents. I have spoken to several firefighters who were there on the night and I ask them the same question: "What time was the gas supply shut off?"

'I was told that it was not until 8am the next morning that someone with the authority to shut the gas off got to the site. The main aspect is that the gas helped the spread of the fire." Before the Grenfell fire a council expert had said that the gas pipes serving flats in the tower must be protected with fire-retardant boxing, but, by the time of the fire, two-thirds were still bare.

In March, three months before the blaze, residents told the London Fire Brigade (LFB) that people living in Grenfell were so scared by the pipes 'that they are having a panic attack'. They requested an urgent safety report to show the building is 'safe from fire hazard'.

A fire safety consultant for Kensington and Chelsea council had approved the location of new gas pipes in landings and stairways, but only if they were clad in 'fire-rated' boxing. However, two-thirds of the gas pipes were still exposed when the disaster happened on 14 June.

Lucy Masoud, one of the firefighters who joined the community on the Grenfell Silent march and a senior Fire Brigades Union official said that she was first sent to Grenfell Tower the day after the fire and spent every day there for at least a month thereafter. Lucy Masoud said: 'We did the best we could with the resources we had. But we're in an area where fire cover had been cut by 50%.

'Firefighters dealt with Grenfell in the best way we could. Our brave men and women who went in there did an absolutely amazing job and I don't think anyone would ever criticise them. But what we did was all we could do with the equipment and the resources we had.

'When you're dealing with a job in an area where fire cover has been cut by 50%, it would be reasonable to suggest that, had those savage cuts not taken place, we may have been able to save one more person.

'Not only are we heartbroken but we're also angry. There is no other brigade in the UK that could have handled an incident of this size because there is no other brigade that would have had the resources on duty that night. Grenfell was a disaster but, had it happened anywhere other than London, it would have been even worse.'
Grenfell Tower fire report finds UK building regulations 'not fit for purpose'. 'The mindset of doing things as cheaply as possible must stop,' says Dame Judith Hackett: here.