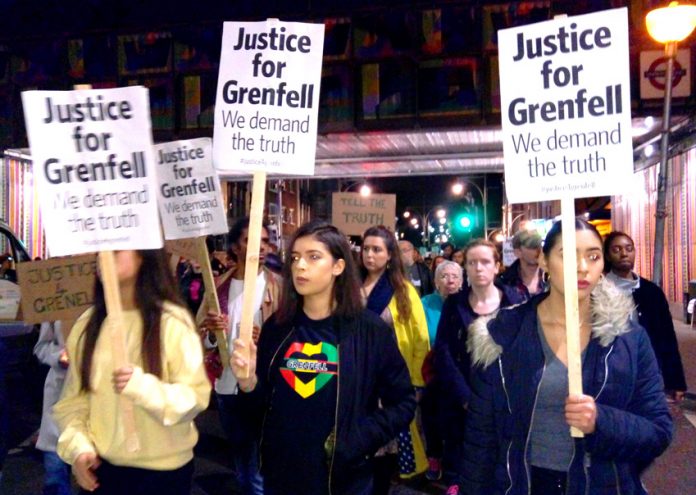 From daily News Line in Britain:
Thursday, 26 October 2017

'PLAYING WITH CHILDREN'S LIVES' – 700 school fires in England annually

THE LONDON Fire Brigade has accused the Tory government of 'playing with children's lives,' by barring the installation of sprinklers in schools.

There are about 700 school fires in England annually. London Fire Brigade Commissioner Dany Cotton said yesterday that she was 'appalled' when she discovered that the DfE (Department for Education) in England launched a 'consultation' last year with new draft guidance saying building regulations no longer require 'the installation of fire sprinkler suppression systems in school buildings for life safety'.

'Therefore,' the guidance continued, '(guidelines) no longer include an expectation that most new school buildings will be fitted with them. I think it was outrageous,' said Dany Cotton. 'I thought, "How can we play with children's lives like that?"

'I just do not understand why it wouldn't be made compulsory and wouldn't be made a requirement to fit sprinklers in schools at new-build stage. And what I don't want to see is a very large school fire to be the thing that brings about that change.'

The consultation was quietly dropped after the Grenfell inferno, so the guidance was never changed. So it continues to state that it is the DfE's 'expectation that all new schools will have sprinklers fitted', unless a school is 'low risk' and installation 'would not be good value for money'.

Despite this, less than a third of the 260 schools built since 2014 under the Schools Building Programme have sprinklers. Dany Cotton said the London Fire Brigade recommended sprinklers in 184 new or refurbished schools last year. However, the advice was taken in only four of these cases.

Other fire services have issued equivalent figures, showing a similar pattern throughout England.

The National Fire Chiefs Council said the proportion of new schools built with sprinklers has dropped from 70% a decade ago to a third last year – and overall, in England and Wales, just 5% of schools have sprinklers.

The Local Government Association said it 'fully supports installation of sprinklers in new school buildings as a cost-effective measure which can help save lives, protect property and improve firefighter safety'.
A meeting of the Grenfell Fire Forum endorsed the launching of a new Grenfell Fire Forum Facebook page: here.
An October 16 auction of works donated by 31 artists raised nearly £2 million [US$2.6 million] for survivors of the Grenfell Tower fire. All works donated to Sotheby's Art for Grenfell auction sold, in the process almost doubling the organisers' predicted total: here.
Related articles