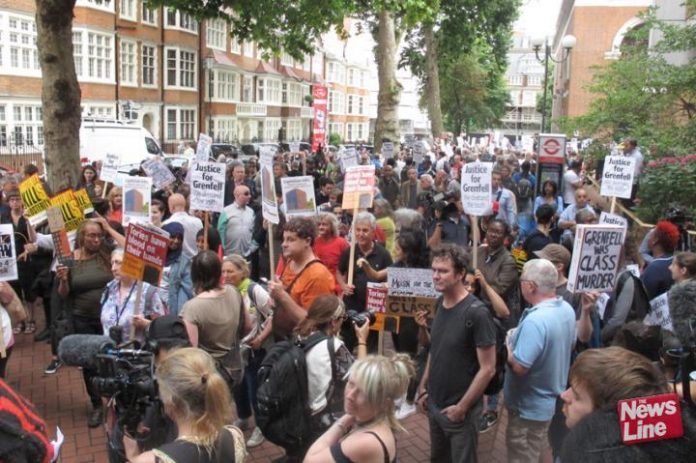 From daily News Line in Britain:
Thursday, 14 September 2017

Sheltered accommodation contains Grenfell cyanide

THE insulation used at Grenfell Tower – which releases cyanide if burned – is installed at sheltered accommodation in east London, it was reported yesterday.

Celotex RS5000 foam was withdrawn from sale after the Grenfell fire, in which victims suffered cyanide poisoning, but the product is used at 34 homes in Havering, east London, including nine sheltered accommodation units for the elderly.

The product, which was present in the cladding at Grenfell, has a polyisocyanurate (PIR) core and emits hydrogen cyanide when burned – a gas once used for executions in the USA.

Leading fire chemistry expert Prof Richard Hull of the University of Central Lancashire said: 'When it burns you have this lethal cocktail of gases. Hydrogen cyanide increases your breathing rate so you inhale more. You collapse, your breathing rate slows down, but you no longer have the ability to escape.'

At least five victims were treated for cyanide poisoning after the Grenfell Tower fire.

Also speaking ahead of today's first day of the Grenfell Tower Public Inquiry, Commissioner of the London Fire Brigade, Dany Cotton, demanded that full sprinkler systems be fitted in all high-rise council flats. 'If that isn't one of the recommendations (of the Grenfell Tower inquiry) then I will be so very disappointed.'

Only 2% of the UK's council and housing association-owned tower blocks have full sprinkler systems and 68% have just one staircase through which to evacuate.

The appointment of Michael Clarke to the post of Director of Communications and Community Engagement at RBKC 'seriously undermines' the Grenfell Tower Public Inquiry which opens today, Justice for Grenfell (J4G) warned yesterday.

'Immediately prior to this appointment, Mr Clarke was Head of Press for the Grenfell Tower Public Inquiry,' J4G said. J4G believes that his appointment to an internal Council post is a classic example of poacher turned gamekeeper and seriously undermines what little credibility the Public Inquiry had with the North Kensington community and other stakeholders.

'This concern is further compounded by his previous role as interim chief media spokesman for [Conservative] First Secretary of State Damian Green and Cabinet Secretary Sir Jeremy Heywood.'
As official Grenfell Tower inquiry opens, UK fire safety provisions under attack: here.