This 1 August 2013 video is about Japanese Deputy PM retracting remarks defending Hitler's genocidal policies.
That was then. And now …
While United States President Donald Trump whitewashes United States neonazis, a Japanese right-wing colleague of Trump whitewashes old German nazi Adolf Hitler.
Translated from Dutch NOS TV today:
Deputy Prime Minister of Japan makes Nazi remark again (and that's not a coincidence)

Japanese Deputy Prime Minister Taro Aso did not raise dust for the first time with a remark about World War II. During a seminar on politics, 76-year-old Aso said that Adolf Hitler had "good intentions".

"Hitler, who killed millions of people, was wrong, although he had good intentions," said the Japanese. There was a storm of criticism in Japan and abroad. Aso, who is also Finance Minister, retracted his words. …

According to correspondent Kjeld Duits, the retraction of controversial words is typical of Aso. "He is familiar with this, and the Japanese language is also good for expressing vague expressions," said Duits. "You say something that can mean several things and everybody knows you mean one thing, but then you say afterwards that you meant something different."

Aso did something similar in 2013 when he suggested that Japan had to follow the example of the Nazis in changing the pacifist constitution. "We can do it secretly, as the Weimar constitution suddenly changed into the Nazi constitution, without anyone being aware of it. Why do we not learn from that tactic?"

Later, Aso corrected his words, but he refused to resign. The fact that he mentions the Nazis several times is not a coincidence, Duits thinks. "You have groups, including supporters of Aso, who think that Japan – and thus their German ally – was not wrong in the war.

"So this is what they want to hear. They are happy with it," said Duits. And that's nice for Aso, because he may be in the race to become Prime Minister of Japan. From 2008 to 2009, the Liberal Democrat [euphemistic name of this right-wing party] was also prime minister and elections will be held again by the end of 2018.

'Just dangerous'

The Simon Wiesenthal Center, which monitors anti-Semitism worldwide, reacted to Aso's words. "We are disappointed. This is just the latest of a troubling list of 'misstatements' and are downright dangerous. These words are harmful to Japan."

Earlier this week, the center was also critical of a famous Japanese plastic surgeon. This Katsuya Takasu had stressed that he had learned at the university in Germany how beautiful Nazism was.

Also, the surgeon doubts on Twitter if the Holocaust really happened. "Jews were certainly prosecuted, but we know about it only second-hand and based on declarations from the Allies." The Simon Wiesenthal Center has called on the association of plastic surgeons to investigate Takasu. …

And I know of two fashion shows at fashion colleges where students in this kind of [SS] uniform walked on the catwalk and did Hitler salutes" says Duits.
According to Dutch daily NRC Handelsblad (translated):
Aso studied economics and led the family corporation Aso Cement and other corporations, before becoming a politician in 1979, with a career in the LDP in parliament and various government posts.

This business has a remarkable wartime past. In the mines of Aso Cement during World War II, three hundred allied prisoners of war are said to have worked, including Dutch people. Apologies for this have never been made.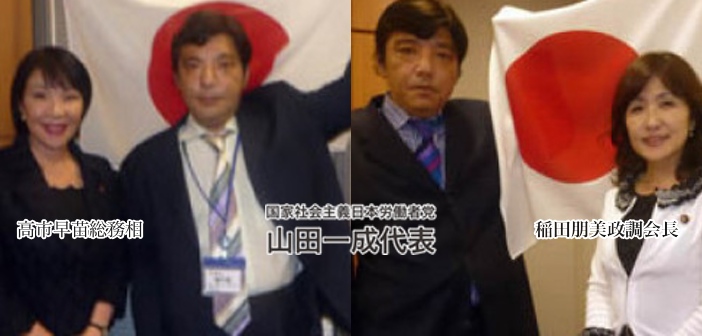 These pictures from Japanese neo-nazi leader Kazunari Yamada's website show him posing with Prime Minister Shinzo Abe's internal affairs minister, Sanae Takaichi, and Abe's party's then policy chief, Tomomi Inada; later minister of war … sorry for forgetting to use the euphemism 'defence' … of Japan.
Amid the escalating danger of war on the Korean Peninsula, Japanese Prime Minister Shinzo Abe announced a sudden election Monday evening, stating he would dissolve the lower house of parliament on Thursday. Campaigning will begin October 10 and the election will take place on October 22. It is the first general election since December 2014. The ruling Liberal Democratic Party (LDP) already has sizable majorities in both houses of the Japanese Diet or parliament. Abe has called the snap poll, above all, to whip up a climate of fear and panic over North Korea so as to intensify his push for Japan's remilitarization: here.
Related articles