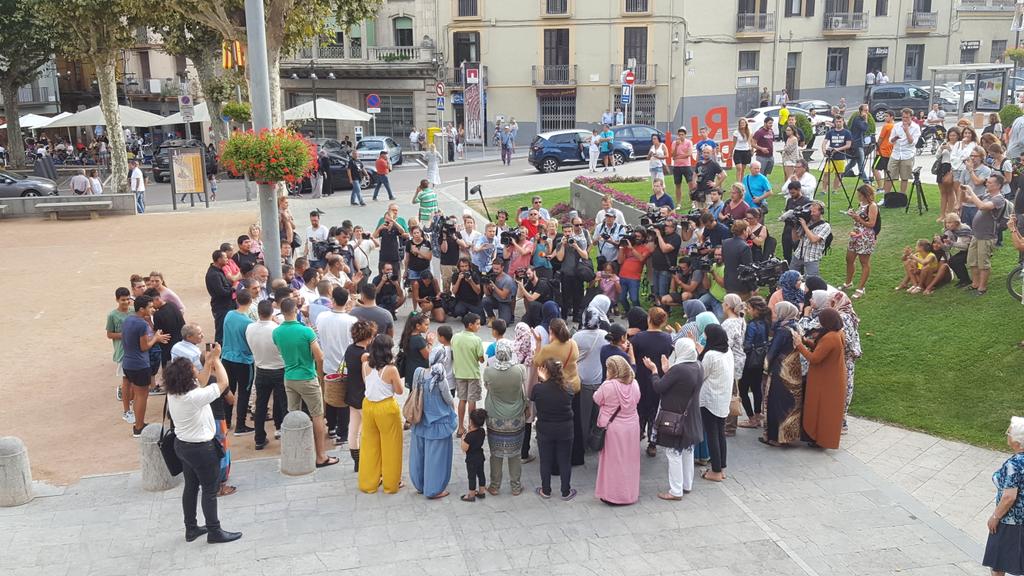 Translated from Dutch NOS TV:
Moroccan community of Ripoll silent to commemorate victims

Yesterday, 22:09

Ripoll, a small sleepy Spanish town with 11,000 inhabitants, at the foot of the Pyrenees. Everyone knows each other, at least faces. No one from the town expected seven of the at least eight suspects involved in the Barcelona attack to be from Ripoll.

The Moroccan community in Ripoll wanted to show tonight that they do not support the actions of the Moroccan boys. With about fifty people, a minute's silence was held on a square in the city. The Moroccan Spaniards stood with signs in their hands that said "Not in my name".

The mothers and aunts of the suspects also stood there. "They said they went on holiday," they told. "We received some SMS from them until Thursday." With this action, they hoped to show everyone that the attack was not committed by their sons as they used to know them.

Also, 22-year-old Hamza, who was at school with some of the boys and played with them, never expected this. "They were very normal, always together, ate together," he says. "They were boys who did everything together, friends for life." Hamza can still not imagine they were killed. "We were together at school, they are young people."
The Spanish government is preparing a massive deployment of police and security forces, even as questions rise about how last week's horrific terror attack in Barcelona was allowed to proceed. As evidence emerges that the terror cell was well known to intelligence services, Madrid is both downplaying the investigation and demanding more police-state measures: here.
Related articles