By Greg Evans in the USA:
Car Plows Plows Into Charlottesville Counter-Protesters – UPDATE

August 12, 2017 11:52am

UPDATE A car has crashed into a crowd of peaceful counter-protesters in Charlottesville, with the Associated Press reporting around 2 pm ET that at least one person on the ground received medical treatment but eyewitness reports on MSNBC saying at least nine people were hurt and bodies "were flying." An MSNBC producer on scene said the badly damaged car drove away after the crash, with police in pursuit.
By Brennan Gilmore in the USA on Twitter today:
Video of car hitting anti-racist protesters. Let there be no confusion: this was deliberate terrorism. My prayers with victims.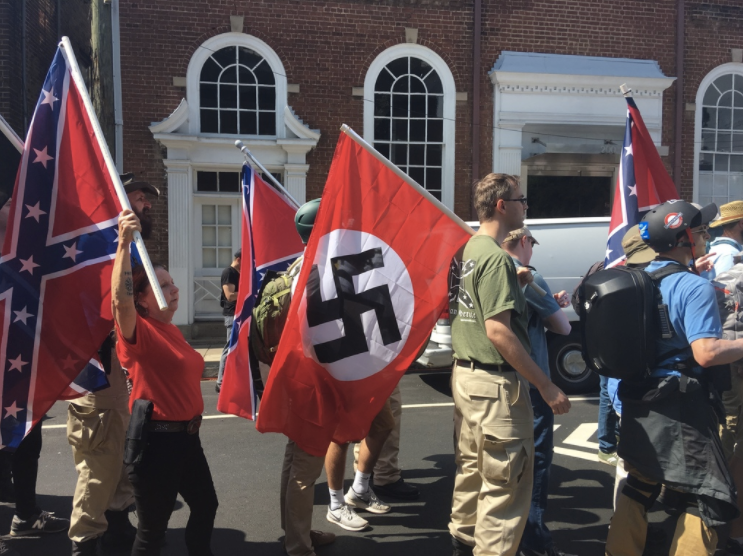 One person has died and 19 others have been injured after a car plowed into a crowd of people during a white supremacist rally Charlottesville, Virginia, where attendees clashed with anti-fascists and a state of emergency was declared.
From the Washington Post in the USA:
At least 10 pedestrians struck along route of white nationalist rally in Charlottesville

By Joe Heim, Ellie Silverman, T. Rees Shapiro and Emma Brown August 12 at 2:50 PM

CHARLOTTESVILLE — This picturesque college town devolved into a chaotic and violence state on Saturday as hundreds of white nationalists, neo-Nazis, Ku Klux Klan members — planning to stage what they described as their largest rally in decades to "take America back" — clashed with counterprotesters in the streets. …

By early afternoon, hundreds of [extreme right] rallygoers had made their way from Emancipation Park — where they had expected to protest the planned removal of a Confederate statue — to a larger park two miles to the north. …

There, white nationalist leader Richard Spencer urged them to disperse. But he promised that they would gather again for a future demonstration, blaming Saturday's violence on counterprotesters.

Former Ku Klux Klan leader David Duke also spoke, calling Saturday's events "the first step toward taking America back." …

They were met by equal numbers of counterprotesters, including clergy, Black Lives Matter activists and Princeton professor Cornel West.

"The worst part is that people got hurt and the police stood by and didn't do a goddamn thing," said David Copper, 70, of Staunton, Va. …

A group of three dozen self-described "militia" men, who were wearing full camouflage and were armed with long guns, said they were there to help keep the peace, but they also did not break up the fights. …

By 11 a.m., several fully armed militias and hundreds of right-wing rallygoers had poured into the small downtown park that was to be the site of the rally.

Counterprotesters held "Black Lives Matter" signs and placards expressing support for equality and love as they faced rallygoers who waved Confederate flags and posters that said "the Goyim know," referring to non-Jewish people, and "the Jewish media is going down."

"No Trump! No KKK! No fascist USA!" the counterprotesters chanted.

"Too late, f—–s!" a man yelled back at them.

Naundi Cook, 23, said she was scared during the morning protests. Cook, who is black, said she came to "support her people," but she's never seen something like this before.

When violence broke out, she started shaking and got goose bumps.

"I've seen people walking around with tear gas all over their face all over their clothes. People getting maced, fighting," she said. "I didn't want to be next."

Cook said she couldn't sit back and watch white supremacists descend on her town. She has a three-year-old daughter to stand up for, she said.

"Right now, I'm not sad," she said once the protests dispersed. "I'm a little more empowered. All these people and support, I feel like we're on top right now because of all the support that we have."

After police ordered everyone to vacate the park, columns of white nationalists marched out, carrying Confederate and Nazi flags as they headed down Market Street in an odd parade. Counterprotesters lined the sidewalks and shouted epithets and mocked the group as they walked by. …

Tensions began Friday night, as several hundred white supremacists chanted "White lives matter!" "You will not replace us!" and "Jews will not replace us!" as they carried torches marched in a parade through the University of Virginia campus. …

Saturday's Unite the Right rally was being held to protest the planned removal of a statue of Confederate General Robert E. Lee. The city of Charlottesville voted to remove the statue earlier this year, but it remains in the Emancipation Park, formerly known as Lee Park, pending a judge's ruling expected later this month.

Saturday marked the second time in six weeks that Charlottesville has faced a protest from white supremacist groups for its decision to remove the statue. On July 8, about three dozen members of a regional Ku Klux Klan group protested in the city.
Robert E. Lee was the commanding general of the army of the separatist slave states of the Confederate States of America during the 1861-1865 American Civil War. Before the war, he had been a slave plantation manager in his native Virginia; punishing runaway slaves by having them tied to trees to have them flogged or flogging thm himself.
The caption of a photo on Twitter says:
To those demanding photographic evidence of Nazi regalia in Charlottesville, here's what's on display before breakfast. Be safe today
By Andy Campbell, Christopher Mathias in the USA today:
White Supremacists Show Up To A City That Didn't Want Them, Chant 'Blood And Soil'

CHARLOTTESVILLE, Va. ― A "Unite The Right" rally organized by white nationalist Richard Spencer descended into chaos and violence Saturday in Charlottesville, as thousands of "alt right" activists, Nazis, KKK members, other assorted white supremacists, and armed militia groups fought with anti-fascist groups and other counter-protesters. …

Tensions were high well before the scheduled noon rally. As they marched toward Lee Park, members of the so-called "alt-right" chanted the Nazi phrase "blood and soil!" and "white lives matter!"

Two fences and a line of cops helped to separate the supremacists and counter-protestors. The alt-right side, with their plethora of Confederate flags and Nazi memorabilia on full display, began chanting: "Fuck you faggots."
Related articles