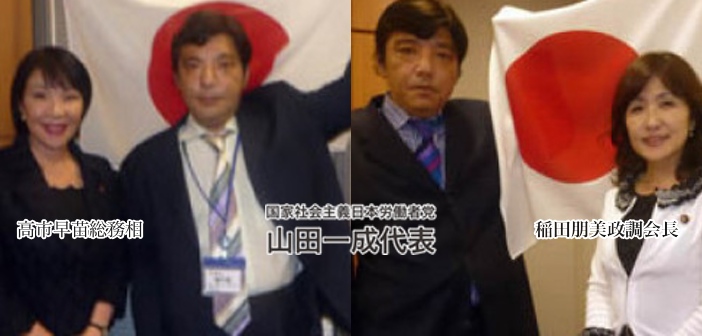 These pictures from Japanese neo-nazi Kazunari Yamada's website show him posing with Prime Minister Shinzo Abe's internal affairs minister, Sanae Takaichi, and Abe's party's then policy chief, Tomomi Inada; later minister of war … sorry for forgetting to use the euphemism 'defence' … of Japan.
The latest news is that Ms Inada has resigned as war minister. Not because of her nazi scandal, but because of other scandals.
Translated from Dutch NOS TV:
Minister of Defense of Japan out because of cover-up scandal

Today, 05:08

The Japanese Minister of Defense has resigned after being hit by a number of scandals. Tomomi Inada is said to have known that her ministry hid sensitive documents.

The case is about the participation of Japanese UN soldiers in a [so-called] peace mission in southern Sudan. The ministry had concealed some reports stating that the situation was becoming increasingly dangerous. Japanese soldiers are not allowed to be sent to areas where there is fighting.

Inada, 58, denies knowing about the cover-up affair, but at the announcement of her leaving, she took full responsibility.

More scandals

The minister received a lot of criticism when, in a campaign speech, she asked the public in the name of the army to support a fellow party member. That is a violation of the political neutrality of government officials in Japan.

Furthermore, her ties with a nationalist educational institution were controversial. The foundation of this preschool institution is pre-war [pre-World War II, when the Japanese military dictatorship were allies of Hitler's Germany and Mussolini's Italy] patriotism, which teaches pupils that they are numbers, not citizens. Also, a traditional mentality and pride in an imperialist way of thinking are preached. In 2004, when Inada was still a lawyer, she assisted the school.

In addition, the director of the school stands accused of real estate fraud. He is said have bought a lot of land for far below market price [with the help of Japan's right-wing government]. Also, Prime Minister Abe is said to have given the school money.
Related articles