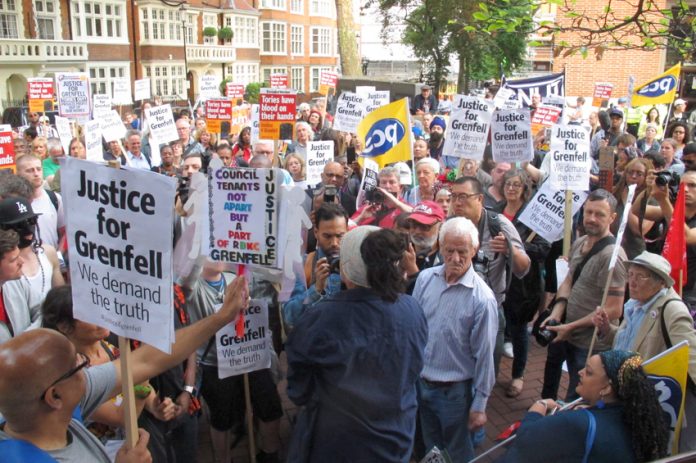 From daily News Line in Britain:
Monday, 24 July 2017

Grenfell Tower inferno – Twin Towers experts helping police

EXPERTS who helped recover remains after the September 11th 2001 terror attack on the Twin Towers in New York, are now helping police investigating London's Grenfell Tower fire, which in scale and complexity is comparable to the 2001 attack in the US, according to UK police.

London's deputy police commissioner, Craig Mackey, said the 'extraordinary size' of the potential crime scene at the 24-storey tower made it necessary to call upon experts, who worked on the aftermath of the 9/11 disaster in New York.

Mackey said it was necessary to call on American experts because they have experience of work in a 'comparable' operation. 'The people we're taking advice from — which gives you an idea of the complexity — are some of the people who worked on 9/11 and the fall of the towers.'

The Grenfell Tower turned to ashes after a massive fire engulfed it in the early hours of June 14th and killed at least 80 people, with survivors insisting that many more were killed. Despite this view of the survivors Mackey said police were confident that the final death toll from the fire would not vary substantially from its current estimate.

Police have so far identified 39 bodies, but Mackey suggested the remains of many others might never be recovered. He further said that some 200 UK police officers have been 'sifting and working through 15 tons of debris and will be working until the end of this year to try and desperately identify parts of people so we can reunite them with their families.

'This is one of the most complex recovery operations we've seen,' said the senior officer.

About 255 people are said to have survived the disaster. In the wake of the fire, hundreds of households in north London tower blocks had been told to 'temporarily' leave their homes to allow 'urgent fire safety works' to remove fire risk cladding and stabilise gas pipes.

Firefighters say that they could not guarantee the safety of the buildings. More than 100 of those evacuated from tower blocks on the Chalcots estate in Camden have refused to return until they receive further assurances about their towers' safety. Following an initial inspection of tower blocks, Sajid Javid, the Communities and Local Government Secretary said they have found 'multiple fire safety inspection failures'.

Javid also said 'literally hundreds of fire doors were missing' from the north London tower blocks.

The evacuated residents are now demanding detailed documentation relating to the inspections and the reasons they were moved out in the first place.

'The residents do not want to move in on the say-so of Camden Council,' said Robert Kukaj, who set up a Facebook group allowing residents to voice their concerns about this issue. We've been living for years in an unsafe place. We want an independent professional body with no ties to local authorities to make an inspection,' he added.
Related articles