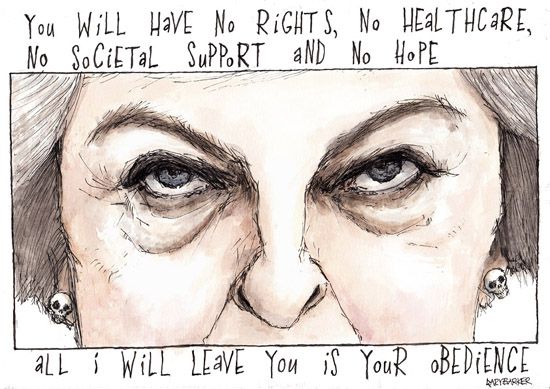 This is a Theresa May cartoon by Gary Barker from Britain.
From daily The Morning Star in Britain:
Theresa May 'has just 10 days to dig herself out'

Monday 19th June 2017

DOZENS of Tory MPs have given Theresa May 10 days to shape up or face a vote of no confidence, according to yesterday's [Rupert Murdoch-owned, Conservative] Sunday Times.

The Prime Minister's disastrous general election campaign, which ended with the Conservatives losing their majority, and her reluctant response to the Grenfell Tower inferno has split the party between those who want her to go now and those who want her to go soon.

In an unusual move, the government said that tomorrow's Queen's speech will be the last until 2019, lengthening the parliamentary sitting to allow more time for Brexit legislation to pass through the Commons and the Lords.

Labour has overtaken the Tories in the polls following the shock general election result.

Research by Survation for Good Morning Britain gave Labour, on 44 per cent, a three-point lead over the Tories.
DRIVE THE MAY GOVERNMENT OUT! MARCH ON PARLIAMENT ON JULY 1st! THE May government has now entered the world of the surreal. It has just about been able to schedule a Queen's Speech of sorts for this Wednesday, but is still without the guaranteed support of the DUP to try to ensure that it survives the confidence vote at the end of the debate: here.
AN ANGRY demonstration of 2,000 demanding 'Justice for Grenfell' marched through central London on Friday night: here.
Related articles