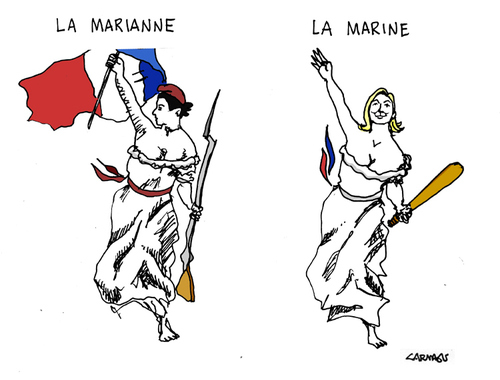 This cartoon shows, on the left, Marianne, symbol of the French republic, as inspired by a famous painting by Eugène Delacroix. On the right, Marine Le Pen, leader of the racist National Front party, doing the nazi salute and carrying a club.
Emmanuel Macron, one of the two candidates in the second round of the French presidential elections, yesterday, on 1 May 2017 refused to dump his plans for further attacks on workers' rights. Jean-Luc Mélenchon, the leftist candidate who just missed the second round, had asked Macron to do that, as a gesture of goodwill to the many voters who strongly oppose extreme right candidate Marine Le Pen becoming president, but are also strongly critical of Macron's pro-Big Business policies.
On 30 April, Mélenchon had said that anyone voting for Le Pen would be making a 'terrible mistake'. He also said (translated from Belgian French language RTBF TV):
In my opinion, France will get rid of Marine Le Pen in this election [second round of presidential election, 7 May], and we, a month later, we will all get rid of the policies of Emmanuel Macron [on the occasion of the legislative elections of June 8].
In an online poll conducted this week, members of the Unsubmissive France (UF) movement broadly rejected support for either candidate in the French presidential runoff election. The two candidates are the former Rothschild banker Emmanuel Macron and the neo-fascist Marine Le Pen: here.
Related articles