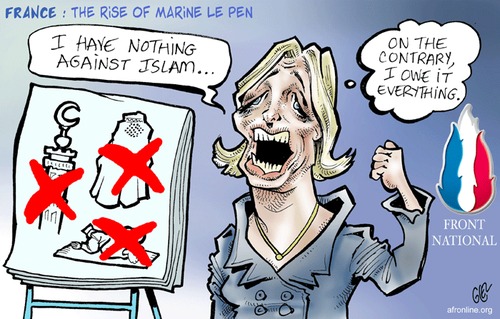 Translated from Dutch NOS TV today:
French [extreme right] presidential candidate Marine Le Pen demands that the government of President Hollande immediately reinstates border controls. "The government needs to restore our national borders," she said in a reaction to the Paris attack last night. That was committed by a French-born man who had previously been convicted of murder attempts on policemen.
The culprit was born in a Paris suburb. After killing a policeman, he was himself shot dead by police.
The leader of the right-populist
racist, not 'populist'.
So Ms Le Pen wants to punish refugees and other people outside France, for a crime inside France with which they have nothing to do, committed by a Frenchman.
Front National also wants to expel all foreigners who are monitored by the security services from the country.

Both measures are also included in her electoral program, but Le Pen wants Hollande to take action now. She also wants the police force to be expanded immediately with 15,000 officers.

Conservative François Fillon also wants more security forces.
Related articles