This video from Japan says about itself:
1 March 2017

A nationalist kindergarten has sparked a scandal which has put the Abe administration in danger. The controversial school teaches students pre-war era ideologies, and has been heavily criticized for referring to Korean and Chinese nationals as "those with wicked ideas" and calling the latter "Shinajin" – which is a derogatory word for Chinese people. Will Prime Minister Abe make it through the scandal? Join host Timothy Langley, Michael Cucek and Dr. Nancy Snow in another polarizing episode of Tokyo on Fire.
From the Sydney Morning Herald in Australia:
March 23 2017 – 2:29PM

Japanese PM Shinzo Abe and wife Akie caught up in right-wing school donation scandal

Elaine Lies and Linda Sieg

Tokyo: The head of a Japanese nationalist school at the heart of a swirling political scandal testified under oath in parliament on Thursday that he received a donation of 1 million yen ($11,700) from Prime Minister Shinzo Abe's wife in her husband's name.

As the scandal began to dominate headlines last month, Akie Abe resigned as honorary principal of a new school planned by a right-wing group in Osaka. The group, Moritomo Gakuen, promotes elements from Japan's pre-war patriotic school curriculum and bought land from the government at a fraction of its appraisal price to build an elementary school. …

Akie had been set to be honorary principal of the school, which was to open in April with a curriculum that taught students to be subjects, not citizens. She cut her ties after the scandal broke. The group also runs a kindergarten with a similar curriculum.

Kagoike [head of Moritomo Gakuen], in testimony to an upper house budget committee under oath – which means he could face perjury charges if he is later found to have lied – said that he had received money from Abe's wife in 2015 when the two of them were alone in a room at the school.

"She said 'please, this is from Shinzo Abe,' and gave me an envelope with 1 million yen in it," Kagoike said.

"Abe's wife apparently says she doesn't remember this at all, but since this was a matter of honour to us, I remember it quite vividly."

The testimony was broadcast live on four of Japan's six television networks.

Kagoike is a member of Nippon Kaigi, a nationalist lobby group that promotes a traditional ethos mixing Shinto myth, patriotism and pride in an ancient imperial line. The group has close ties to Abe and his cabinet.

Abe's Liberal Democratic Party had resisted opposition calls for Kagoike to testify but agreed after he said Abe had donated money, calling the allegation an "insult" to the prime minister.

Abe's support fell 10 points … in a Yomiuri newspaper survey published this week, the biggest drop since he returned to office for a rare second term in December 2012.

Defence Minister Tomomi Inada, under fire for an unrelated possible cover-up at her ministry [about Japanese armed forces in South Sudan], has also been ensnared in the school scandal. She had denied appearing in court on Kagoike's behalf but had to correct her statement to parliament after court records showed she had. She said her memory was faulty.
This is hardly Ms Inada's first scandal.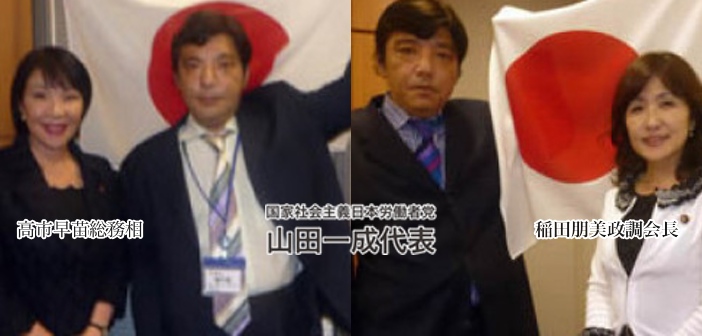 From daily The Morning Star in Britain:
Japan: Abe gives military brief to war crimes apologist

Thursday 4th August 2016

JAPANESE Prime Minister Shinzo Abe risked upsetting regional neighbours yesterday by naming as defence minister Tomomi Inada, who has excused her country's war crimes.

Ms Inada, a former minister for regulatory reform who most recently held one of the top posts in the ruling Liberal Democratic Party, replaced Gen Nakatani as defence minister.

Mr Nakatani was notorious for pressing for Japan to have a pre-emptive strike capability.

The new defence minister is a regular at Tokyo's Yasukuni Shrine, which honours war dead, including convicted war criminals.

Ms Inada has excused Japan's wartime atrocities, including forcing many Asian women into sexual slavery in military-run brothels, and has headed a party committee to re-evaluate the judgement of Allied war tribunals.

Her link to a notorious anti-Korean group was acknowledged by a court this year in a defamation case she lost.

She was also seen posing with neonazi group leader Kazunari Yamada in a 2011 photo that surfaced in the media in 2014.
With ministers like Ms Inada, 'defence minister' sounds more than ever like an euphemism for war minister.
Japanese Prime Minister Shinzo Abe has become embroiled once again in recent weeks in the scandal over a land sale to a far-right private school in Osaka Prefecture. The affair could negatively impact Abe's chances of remaining head of the ruling Liberal Democratic Party (LDP) in a leadership vote this September and thus extending his term as prime minister: here.
Related articles