From the Jewish Telegraph Agency in the USA:
3 suspects arrested in vandalism of Jewish grandparents' gravestone in Indiana

January 5, 2017 9:33am

Three people have been arrested in connection with the vandalism of the headstone of a Jewish couple buried in the cemetery of a small Indiana town.

An anonymous tip to police led to the arrests on Tuesday night, according to local news reports in Scottsburg.

Angeliquca Tompkins, 19, and Matthew Terry, 20, are charged with criminal mischief and criminal trespassing; they are being held in the county jail. The third suspect was a female juvenile who was released to the custody of her parents.

The words "F***ing Jew" were spray-painted in white across the back of the double headstone, on top of the large Jewish star, in the Scottsburg Cemetery, one of the few headstones with a Jewish name on it. Two other headstones in the cemetery were later discovered vandalized.

On Monday, a grandson of the couple posted a photo of the headstone on Facebook and offered a cash reward for any information leading to the arrest of those responsible for the attack. The photo has been liked more than 16,000 times and shared more than 40,000 times.

Jarin Gladstein told a local news station: "The fact that words spread fast, obviously from Facebook, but it's awesome that we got together and somebody obviously spilled the guts and said who it was, which I appreciate because I feel like that should pay for what they've done."

Gladstein prior to the arrests had told the local media that he was "livid, upset, sick," over the desecration.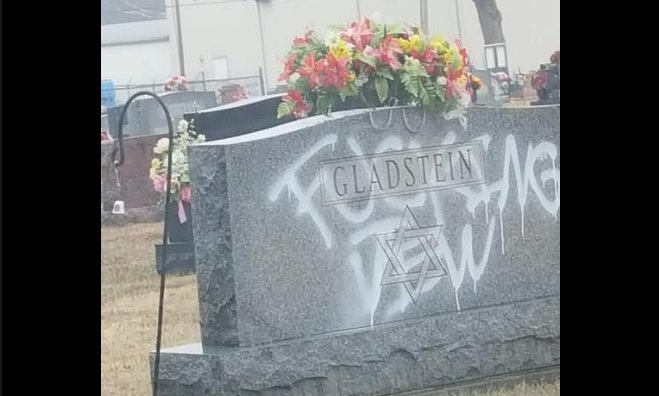 Law enforcement officials announced Friday that they seized 83 guns, 10,000 rounds of ammunition, and a helmet with a Nazi insignia from the home of a Lexington, Massachusetts man facing civil rights charges, the Boston Globe reported: here.
Bomb Threats Reported at Jewish Centers in Four U.S. States: here.
A score of Jewish centers in the Eastern U.S. faced false bomb threats Monday.
JEWISH CENTERS ACROSS THE COUNTRY ARE RECEIVING BOMB THREATS More than 20 were reported on Wednesday alone. [Willa Frej and Andy Campbell, HuffPost]
JEWISH COMMUNITY CENTERS ACROSS THE COUNTRY HIT WITH ANOTHER WAVE OF BOMB THREATS Forcing evacuations in ten states Monday. There have been 67 incidents at 56 Jewish community centers in 27 states and one Canadian province since the start of 2017. Vandals also toppled over 100 headstones at a prominent Jewish cemetery in St. Louis. Ivanka Trump, who converted to Judaism, tweeted about the incidents Monday, and not all of Twitter was pleased. [HuffPost]
Related articles