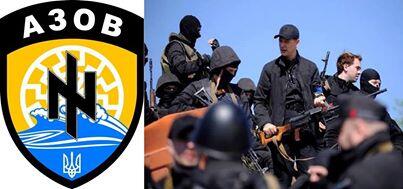 This picture (also reproduced on the Facebook page of the Dutch NVU nazi party) shows the symbol of the Ukrainian Kiev government's Azov battalion; source: here. It is the wolfsangel, or wolf's hook. Which used to be a symbol in Adolf Hitler's Waffen SS. It was also the symbol of the Dutch nazi party NSB in the 1930s and 1940s.
On the Dutch NSB 1930s-1940s nazi flag for their paramilitary organisation, the WA, the same wolfsangel, in a different direction.
The Azov battalion logo has, behind its black wolfsangel, also another nazi SS symbol, depicted in white: the 'schwarze Sonne' or black sun.
From daily The Morning Star in Britain:
Ukraine: Fascists mark three years since riots by looting store

Saturday 3rd December 2016

UKRAINIAN neonazis marked the third anniversary of the Maidan Square riots on Thursday by ransacking a regional government office and robbing a petrol station.

Members of the fascist Azov Battalion stormed the offices in the capital city of Cherkasy in the region of the same name, an online Ukrainian publication reported.

Security camera footage showed masked and hooded thugs looting the public building, some recording the break in on video cameras.

Following a separate march by Azov goons near the village of Novodmitrovka in Zolotonosha district, members distracted staff at a petrol station while some two dozen youths looted food and alcohol.

Later police stopped their bus and detained three suspects.

December 1 2013 saw pro-EU protesters against the former president Viktor Yanukovich's government erupt into riots as far-right groups such as Right Sector and Svoboda hijacked the sit-in in Maidan Square.
Five Ukraine police killed in friendly fire mix-up: here.
Related articles