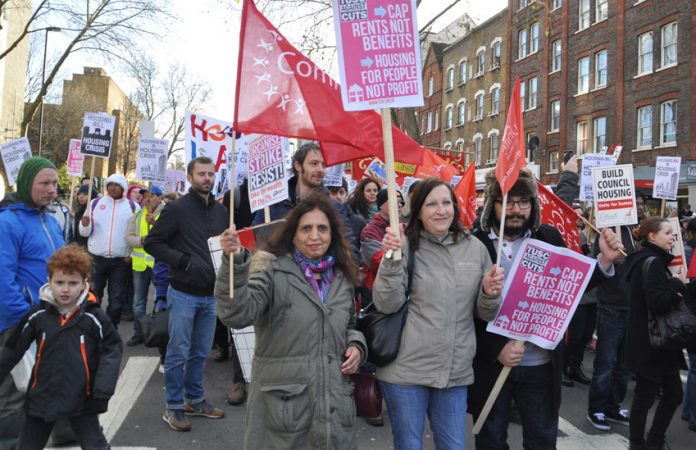 From daily News Line in Britain:
Saturday, 5 November 2016

OVER 120,000 CHILDREN WILL SPEND CHRISTMAS HOMELESS

OVER 120,000 children in Britain face spending this Christmas homeless and in temporary accommodation, the highest level since 2007, Shelter's new analysis of government figures shows.

A new investigation carried out by the charity has uncovered the harrowing impact of homelessness on families and children in Britain.

Alarmingly, the figures reveal that the number of families living in emergency B&B and hostel rooms has risen by 18% in just a year, as local councils battle to find homeless families anywhere else that is stable or affordable to go.

Fifty years since the housing and homelessness charity was first founded, the country is once again in the grip of a housing crisis. With a new family becoming homeless every 10 minutes, Shelter is calling on the public to help support its frontline advisers as they grapple with the increasing demand for help from families fighting to stay in their homes.

To shed light on the harsh realities of modern-day hidden homelessness, the charity carried out in-depth interviews with 25 families currently or recently living in emergency B&B's, hostels or sofa-surfing. Some of the investigation's most shocking findings included:

• More than three-quarters of families said they felt their accommodation was unsafe, with the worst accounts involving exposure to drug abuse, fighting, and strangers sleeping in the corridors.
• Every family lived in a single room without any space for the children to play, and over half of parents also had to share a bed with their children.
• Three-fifths of families had to share toilet and bathroom facilities, often in a poor and unsanitary condition, with other residents.
• More than two-thirds of families said their room was in a state of disrepair, including reports of mould, broken beds and stained mattresses, as well as more serious hazards like sparking electrical sockets and windows that wouldn't close.

The investigation also revealed the emotional and mental turmoil of living in these circumstances. Eighteen of the 25 families interviewed said their children's mental and emotional health had been badly affected, with accounts of children becoming anxious, isolated from their friends and struggling to sleep.

Over half of parents said their children's development was negatively impacted.

Campbell Robb, chief executive of Shelter, said: 'News of the devastating rise in homeless children will bring heartache to millions of people across Britain.

'But the sad fact is, fifty years since Shelter was founded, too many families still need our help. Almost daily we hear from parents desperate to escape the single cramped room of a B&B or hostel that they find themselves struggling to raise their children in.

'Imagine having to eat all of your meals on the floor, share a bed with the rest of your family, or being too frightened to leave your room at night – these are things no parent wants their child to endure.

'That's why we urgently need the public's support to help us be there for the thousands of families who'll need us this Christmas. Join us and together we will not rest until every homeless child has a place to call home.'

Desperate to Escape: the experiences of homeless families in emergency accommodation

Thankfully we have a safety net in place which means that homeless children rarely experience the most visible manifestation of homelessness – having to sleep rough. But because they are out of sight, most people have no idea of their appalling living conditions.

Shelter's investigation reveals that, while children in emergency accommodation might have a roof over their heads, they are clearly without a home. They do not have the space to live their lives – to play, study, or relax, nor a place of stability and safety where they can grow and develop with a feeling of security.

Every one of the twenty-five families interviewed were living in just one room.

Accommodation varied. One family was sharing a two bedroom terraced house with three other families. Others shared a building with fifty other families. Others were living in hostels designed for single homeless people and adapted to accommodate families.

Case study

'We ended up at hospital and the doctor wouldn't discharge us because his staff couldn't find the address that I've given them on the computer. In the end he said to me "Oh my staff has found the address but it's coming up as a single male hostel''. He said "That can't be right." And I thought – yep that sounds like it.'

Some of the households lived and shared facilities with people with chaotic and sometimes criminal behaviour.

Case study

'The day I moved in here a person below me, got raided by the police. They were selling drugs from the room downstairs. I would have thought that the council should sort of divide families from drug users.'

All of the families lived in a room with fewer bed spaces than people. Eighteen of the parents had to share beds with their children. The room had to accommodate the family and their beds as well as their possessions from their previous home.

Case study

'It's so cramped, it's so humid. We're basically all on top of each other. I can't buy butter because it melts. I can't get milk because it curdles during the day. I have nothing. I've tried to put cold water in the sink but, because it's like 32 degrees in here, it curdles straight away.'

Of the families in the investigation, three had to spend a night in a car or on the floors of friends after becoming homeless and being unable to secure some accommodation straight away.

Case study

Glenn Hodges and his ten-year-old son, Cam, became homeless following a relationship breakdown.

Unable to find anywhere he could afford to privately rent on his wages, the family have been living in an emergency hostel for more than six months. "It's not a secure place at all. You've got people coming in and out all the time. The day we moved in here the person in the room below got raided by the police. We don't feel safe. My son is 10 years old and he shouldn't be dealing with that. I'm trying to protect him from it.

'But the worst thing is the uncertainty. Being a single father, I'm not worried about me now, it's the pressure of making sure Cam is alright. He's getting depressed, and he's losing touch with his friends because he can't play with them after school like he used to.

'It feels like you've lost control over your life, but when I called Shelter's helpline it was like a little bit of hope had been restored. The adviser I spoke to was really patient and kind, and it's such a relief to have someone fighting my corner so that maybe next Christmas Cam and I will have a place to call home again.'

Case study

'It was the worse day of my life. Not only because then I was homeless, but because of what happened next. I went to the council and they offered me a place. And they asked me to wait a few hours for the agent. So I went there at 5pm and the agent gave me the keys and told me to go to the place.

'He said, you'll be fine, it's on the third floor. I don't have any space to park my car. Go by yourself. So I took my son, I took my luggage, my bags and opened it up. I went through the staircase and there was no light at all. So I lit up my phone and then I just saw carpets, all burned from cigarettes. Empty cans of beers. There was drunk people at the front of the building. My son was terrified.

'Then I went to the third floor to the door of the room that the council offered me, the door was without any locks. I could open it without the key. There was no lock, there was just a hole. So I opened up the door to the room if you could call it that, for me it looked like a squat. Mice. There was no light in there. It was January, it was dark already outside so I couldn't see anything. My son was terrified he was saying, "Mummy let's go back home."

'What should I say to him? We didn't have any home, at that date. "Please mummy, I'm scared," – that's what he said.'
MORE than three-and-a-half million children live in poverty in Britain — and at least 840,000 (28 per cent) of them are in Wales. The region's five worst-affected local authority areas — Blaenau Gwent, Cardiff, Merthyr Tydfil, Newport and Bridgend — have a child poverty rate of 30 per cent or more after housing costs.
Related articles