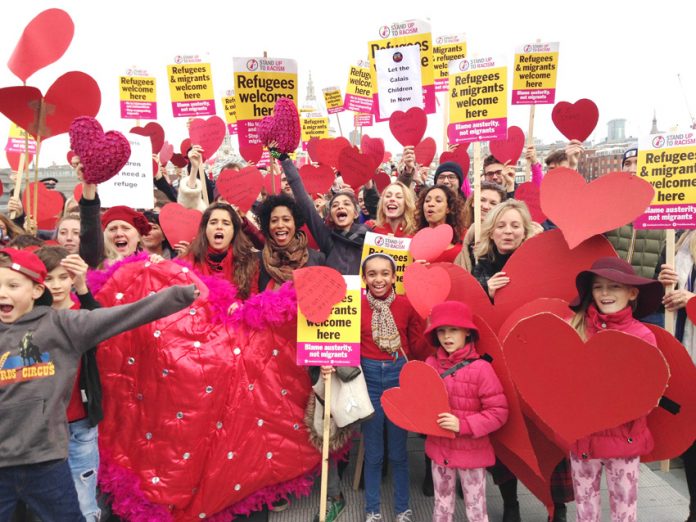 From daily News Line in Britain:
Thursday, 27 October 2016

REFUGEES ARE WELCOME HERE

'HAVE a heart London,' chanted a whole crowd of Refugees Welcome demonstrators waving red hearts on the Millennium Bridge over the River Thames yesterday.

One of the protesters, schoolteacher and NUT member Natalie Zdrojewski, told News Line: 'I'm here because what is happening to a lot of children is disgusting. We need to care for children regardless of where they come from. What is happening in Calais is horrible.

'It's bad that refugees have had to move from their country to live in squalor and are now having such an uncertain future. The government doesn't care for people, whether they are working or not. They don't care for education, they don't care for health. There should be a general strike, where everybody unites to save our services and welcome all refugees.'

Meanwhile, fires raged across the Jungle refugee camp in Calais yesterday, with inhabitants accusing the police of preventing the admission of French firefighters to put them out for several hours. Many of the makeshift shops that had been set up in the camp were destroyed, as was a London bus used by a charity to help women and children.

Dorothy Sang, of the charity Save The Children, said: 'We know that hundreds of children slept in the Jungle last night, under the bridge, while fires were burning around them. We know that lots of them ran. It's a really, really dangerous situation for children right now.'

French bailiffs in hard hats and orange jumpsuits began smashing up the Jungle with sledgehammers on Tuesday, pulling down tents and shacks, with bulldozers standing by to be used later on in the week.

By the end of Tuesday, about 3,000 refugees had been moved out on coaches to centres across France, while another 1,000 unaccompanied minors had been given accommodation in lorry containers near the Jungle.

With over 1,200 police officers deployed in Calais and many more in reserve, the French interior ministry said yesterday that officers 'might be forced to intervene' if there is unrest during demolition of the Jungle.
Related articles