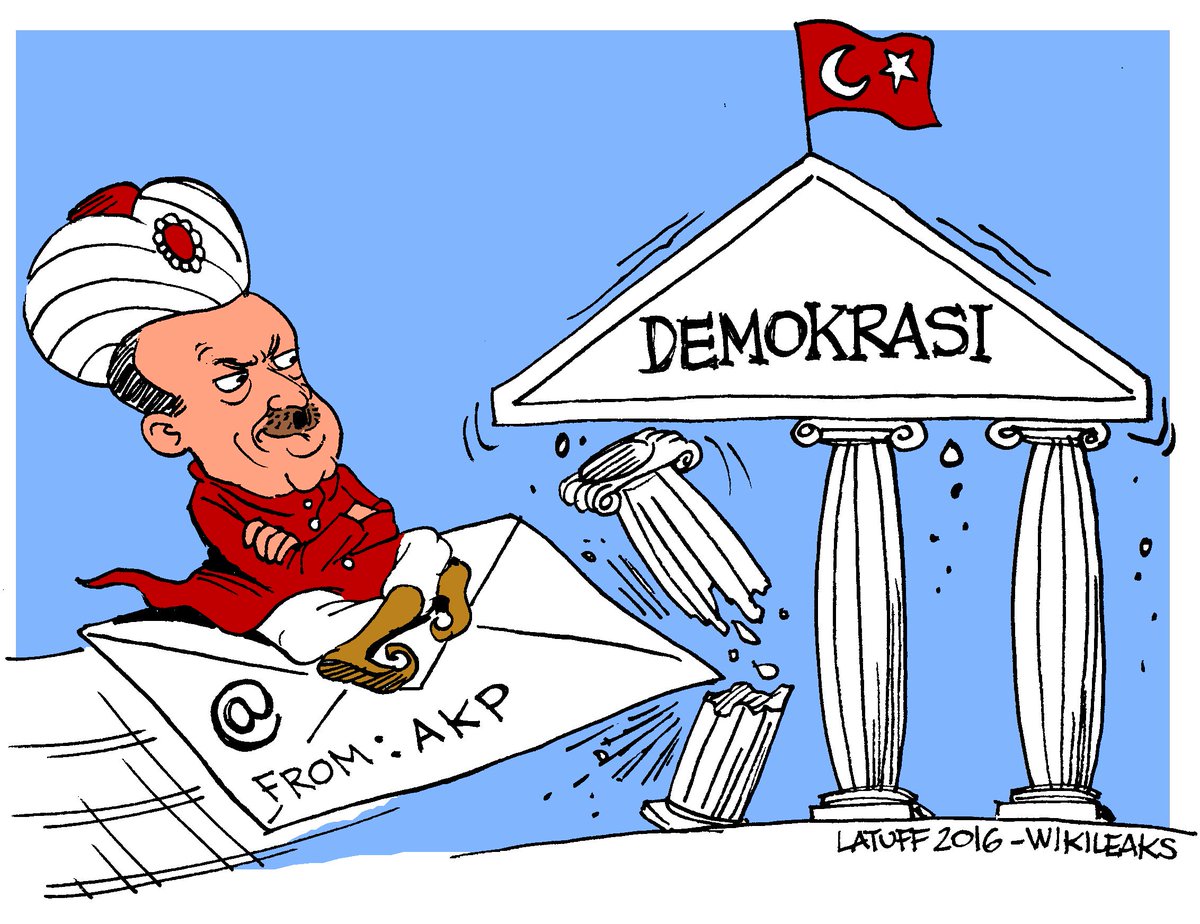 From Al Jazeera today:
Turkey: WikiLeaks releases thousands of AKP emails

WikiLeaks publishes trove of nearly 300,000 emails allegedly belonging to Turkish President Erdogan's ruling party.

Birce Bora

WikiLeaks has published 294,546 emails along with thousands of attached files from 762 mail boxes that allegedly belong to the primary email domain of Turkish President Recep Tayyip Erdogan's ruling Justice and Development Party (AKP).

The most recent email in the trove released by the whistle-blowing organisation on Tuesday was sent on July 6, 2016. The oldest dates back to 2010.

"It should be noted that emails associated with the domain are mostly used for dealing with the world, as opposed to the most sensitive internal matters," WikiLeaks said on its official website.

WikiLeaks said it obtained the emails a week before Friday's attempted coup.

"WikiLeaks has moved forward its publication schedule in response to the government's post-coup purges.

We have verified the material and the source, who is not connected, in any way, to the elements behind the attempted coup, or to a rival political party or state," the organisation said.

WikiLeaks previously claimed that the Turkish government would attempt to censor the distribution of the documents, and urged the Turkish public to be ready to bypass any government attempts at blocking access to the material.

"Turks will likely be censored to prevent them reading our pending release of 100k+ docs on politics leading up to the coup," the organisation said on Monday via Twitter.

"We ask that Turks are ready with censorship bypassing systems such as TorBrowser and uTorrent. And that everyone else is ready to help them bypass censorship and push our links through the censorship to come."

WikiLeaks later claimed that its infrastructre was "under sustained attack," following its announcement of the imminent publication of the AKP emails.

"We are unsure of the true origin of the attack. The timing suggests a Turkish state power faction or its allies. We will prevail & publish," WikiLeaks said on Twitter.
Turkey blocks WikiLeaks over release of AK Party emails: here.
Turkey: Work travel ban on academics after failed coup: here.
Turkey suspends European Convention on Human Rights in wake of coup: here.
Suspected coup supporters in Turkey beaten, raped while detained: Amnesty: here.
In the wake of the 15 July coup attempt, a three-month state of emergency was declared all over Turkey in accordance with "suggestions" from the National Security Council. Declaring a state of emergency following a coup attempt that aimed to completely suspend democracy will solve none of the country's problems but only serve to realize the system of governance envisioned by the coup plotters: here.
Related articles