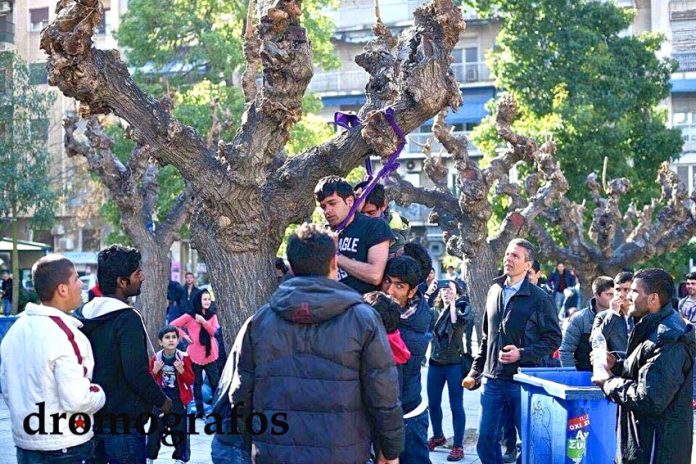 From daily News Line in Britain:
Saturday, 27 February 2016

Refugees hang in Victoria Square, Athens

TWO desperate refugees tried to commit suicide by hanging themselves in central Athens' Victoria Square on Thursday.

With the European states bordering Greece razor wiring their borders to keep refugees out, hundreds of thousands of refugees are stranded in Greece, which is being turned into one big refugee camp by the European Commission in Brussels.

The two men were cut down by bystanders from the tree in central Athens' Victoria Square. Bystanders said that the two men were upset because of delays to their planned travel to northern Greece. One of the men was unconscious and was taken to hospital.

Thousands of refugees have been pictured queuing for food distributed by the Greek army at a transit camp in the western Athens suburb of Schisto. It is estimated that about 4,000 refugees continue to arrive on Greek territory daily.

Greece asked its passenger ferry companies and travel agencies yesterday to cut back on bringing refugees from frontline islands to the mainland and said its own chartered ships would halt operations for a few days.

The moves, described by Greece's shipping minister as temporary, are designed to stem a flow of people mostly fleeing from imperialist wars and violence in the Middle East.

Meanwhile, 400 mostly Syrian migrants have walked out of a transit camp near Greece's second largest city, Thessaloniki, and are heading toward the country's border with Macedonia, police said.

They are said to be determined to storm the border. Some 2,000 migrants were taken to the newly built camp on Wednesday. But the 400 migrants, mostly from Syria and some from Iraq, demanded they be allowed to leave on Thursday and began walking or seeking other means of transport to reach the border town of Idomeni, some 70 kilometres to the north.
Tens of thousands of refugees who have escaped the hell of war in the Middle East are being deprived of all rights and any shred of human dignity. They are being used as pawns in conflicts between the European states. Barbed wire and guns hinder their onward journey. They are mistreated, detained under barbaric conditions and deported. They are not considered human, and certainly not as being in need of protection. They are treated as "invaders", "illegal immigrants" or "criminal foreigners": here.
Related articles