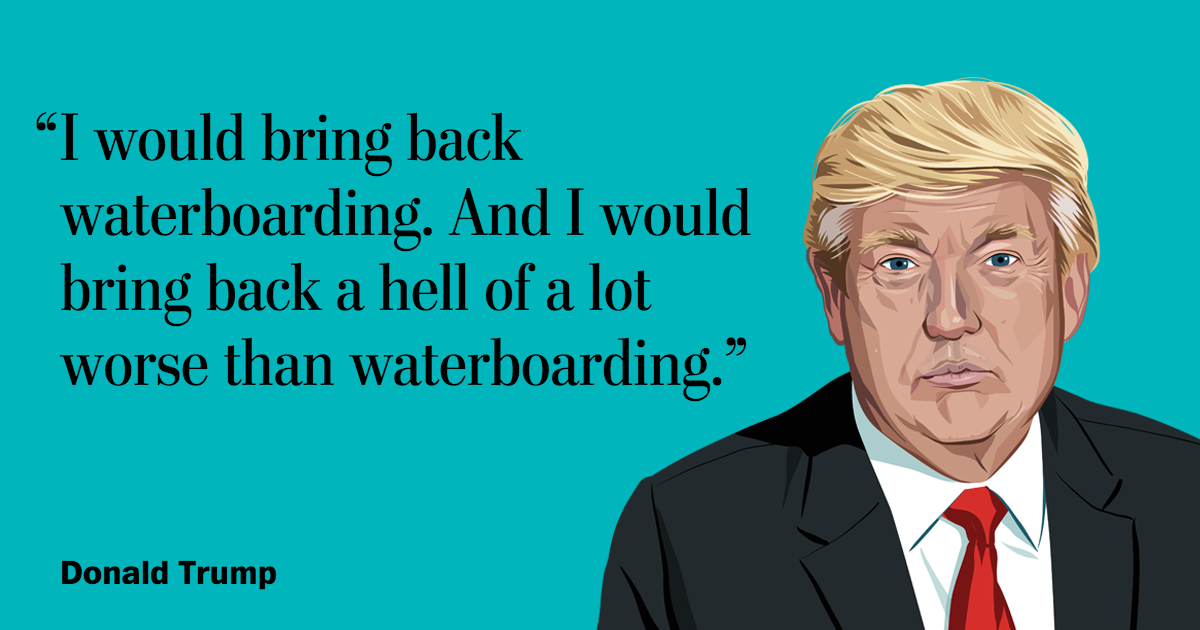 On top of this blog post is a quote about torture by Donald Trump, one of the United States Republican party presidential election candidates, during an election debate in New Hampshire yesterday.
Another Republican candidate, George W Bush's little brother Jeb Bush, had already said that his older brother's waterboarding torture was OK. In yesterday's New Hampshire debate, candidate Ted Cruz agreed with that.
So did Donald Trump, like he had done before; adding in New Hampshire: "I would bring back a hell of a lot worse than waterboarding." What exactly did Trump refer to? Under George W Bush, there was lots of torture, like sexual torture and rectal feeding, "a hell of a lot worse than waterboarding". Did Trump refer to these forms of torture, as practiced by the CIA and others in Guantanamo Bay, Abu Ghraib and elsewhere? These forms of torture, along with torture in the Kingdom of Saudi Arabia, staunch allies of the Washington political establishment, became the main inspiration for torture by the ISIS terrorists.
Or does candidate Trump want to bring back even earlier times? The times of the 1692 Salem witch trials in what is now Massachusetts state in the USA?
Then, 81-year-old farmer Giles Corey, accused of witchcraft, was stripped naked; then, a heavy board was laid on top of him; then, the torturers put more and more heavy stones on his stomach and chest. Until Giles Corey died after two days of this torture.
Donald Trump's son claims waterboarding 'no different to what happens in college frat houses'. Like father like son: here.
WHY THE U.S. MILITARY QUIETLY BANNED WATERBOARDING OF ITS TRAINEES "No one succeeds. They can't teach a strategy during that. Literally, it was absolutely so painful." [HuffPost]
Marco Rubio: I would tell rape victim 'it's a terrible situation' but have the rapist's baby anyway: here.
Related articles