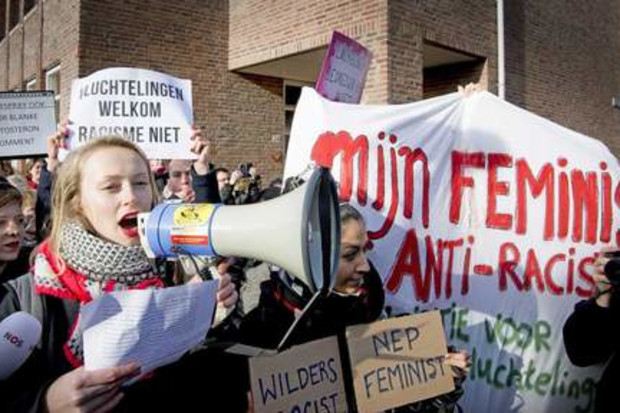 This photo shows Dutch feminists demonstrating against anti-refugee politician Geert Wilders in Spijkenisse town. The slogans on their signs say, translated, from left to right: Do white testosterone bombs [term of abuse by Wilders for male refugees] exist as well? Refugees are welcome, racists not. Wilders racist. [Wilders] fake feminist. My feminism is anti-racist.
From Indiegogo.com:
Thanks for your overwhelming support! Any donations in excess of what we need for legal costs will go to supporting refugees

Donation bank account (for those without paypal): NL42 ABNA 0441 4778 44

Support feminists against Geert Wilders!

Feminists for "verzetsspray" need your (financial) support.

On Saturday January 23rd we, 10 women of all ages, were arrested in Spijkenisse at the protest "Feminists for verzetsspray". Wilders was in Spijkenisse to hand out fake pepper spray to women to protect themselves against asylum seekers who, in Wilders words, are "Islamic testosterone bombs".

We peacefully spoke out against Wilders' cynical use of women's rights to further his agenda of racism, exclusion and fearmongering against migrants, Muslims and refugees. The police infringed upon our right to free speech, while Wilders' supporters were allowed to hurl sexist abuse at us. We refused to identify ourselves to the police because they had no grounds to demand this, and had we complied with this demand it would have effectively ended our protest. Because of this refusal we were detained and were held for hours, and one women was even held overnight. We have been fined for not complying with police orders and failure to identify ourselves (on the spot).

Our lawyer Willem Jebbink considers both charges to be unfounded. We will contest the arrest and these fines before a judge. Willem Jebbink is representing us at a reduced tariff.

We are confident that all charges and fines against us will be dropped. However, in the meantime we do need some money to defend ourselves against these unjustified arrests and fines. We need approximately 1280 euros and therefore are asking for your (financial) support!

Every donation, great and small, will be much appreciated!

When we are acquitted, as we anticipate, we will also be reimbursed for all legal costs. Of course we shall make sure that any donated money goes toward welcoming and relieving the suffering of refugees.

Apart from your financial support we especially hope you will support us in action; against racism, for feminism and in solidarity with refugees.
On February 6th at 13:00 at the Dokwerker in Amsterdam we will be there to march against the presence of the racist organization PEGIDA in Amsterdam and hope to see many of you there.
Interview with the arrested women: here.
Europe is firmly in the grip of winter, and the Balkans are covered in snow with temperatures below freezing. Nonetheless, one government after another is closing its borders and sending hundreds of thousands of desperate refugees back to war zones that they have risked their lives to flee: here.
Berlin town hall meeting protests discrimination against refugees. By Verena Nees, 26 January 2016. On Thursday evening, about 1,400 people flocked to the old terminal building of the former Tempelhof Airport in Berlin. It was one of the biggest ever town hall meetings in the German capital: here.
Related articles