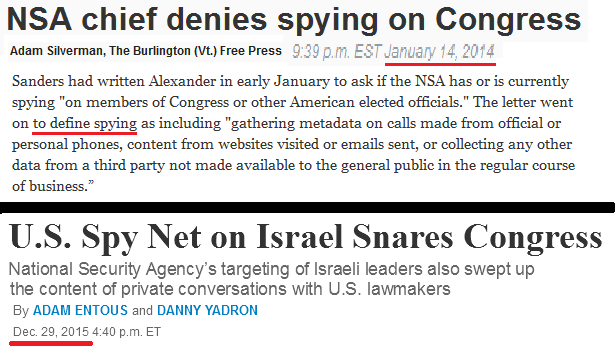 This picture is from a Twitter message by Edward Snowden today. Snowden asks himself:
Did the NSA lie to Congress? Compare today's Wall Street Journal to Sanders' clear 2014 question on spying.
From the Wall Street Journal in the USA:
U.S. Spy Net on Israel Snares Congress

National Security Agency's targeting of Israeli leaders also swept up the content of private conversations with U.S. lawmakers

By Adam Entous and Danny Yadron

Dec. 29, 2015 4:40 p.m. ET

President Barack Obama announced two years ago he would curtail eavesdropping on friendly heads of state after the world learned the reach of long-secret U.S. surveillance programs.

But behind the scenes, the White House decided to keep certain allies under close watch, current and former U.S. officials said. Topping the list was Israeli Prime Minister Benjamin Netanyahu.
Feds: NSA "'Probably' Spies on Members of Congress": here.
Related articles