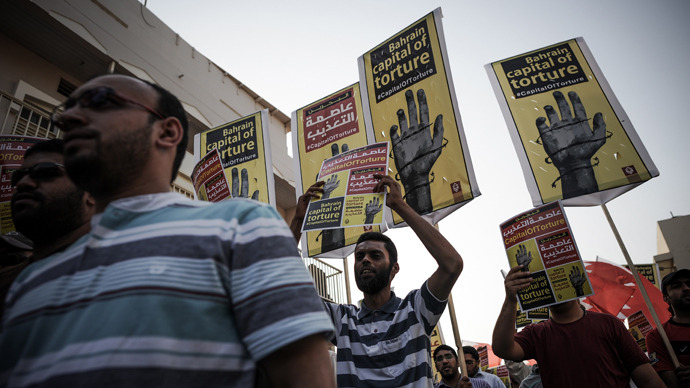 Bahrain torture report undermines UK's reform claims. New accounts of prisoner mistreatment documented in Human Rights Watch report, undermining British claims that Gulf ally has reformed security services: here.
Bahrain's security forces torture detainees using electric shocks, beatings and sexual abuse, despite a public pledge by the king of Bahrain four years ago to end such practices, according to a report released on Monday by the New York-based Human Rights Watch: here.
Bahrain tortured detainees years after 2011 protests, Human Rights Watch says: here.
Torture still happening in Bahrain jails: HRW: here.
Bahrain sexually abuses detainees, still 'capital of torture' despite UK support – HRW: here.
Bahrain security forces 'continue to torture detainees': here.
Bahrain refuses to prosecute police who tortured journalist: here.
Human Rights First today urged the U.S. government to increase pressure on the Bahraini regime to implement all 26 recommendations from the Bahrain Independent Commission of Inquiry (BICI) four years after the report's release: here.
Bahrain authorities violate the rights of hundreds of children against the convention on the Rights of the Child: here.
The one-year-old daughter of Sheikh Ali Salman, the secretary general of Bahrain's main opposition party, al-Wefaq National Islamic Society, has been deprived of Bahraini citizenship on political grounds, Salman's wife announced: here.
Related articles