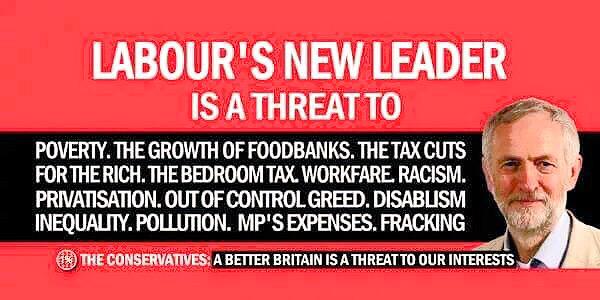 Earlier this month, a right-winger within the British Labour Party smeared Jeremy Corbyn, then a candidate for that party's leadership, by comparing him to the ISIS terrorist organisation.
This smear was intended to stop Corbyn from being elected. Like other smears by Tony Blair himself, who equated Corbyn and United States presidential candidate Bernie Sanders as well, to French neo-fascist Fuehrer Marine Le Pen.
There were more smears by Tony Blair's supporters, describing Corbyn supporters as, eg, 'morons'.
The invective did not manage to stop the voters from supporting Corbyn: Corbyn won, with nearly 60% of the vote.
After Corbyn was elected came a new Labour Party shadow cabinet.
Suddenly, all kinds of corporate media bigwigs and politicians who had never cared about discrimination against women and/or had actively contributed to it, started accusing Corbyn and Labour of sexism.
By Bernadette Horton in Britain:
Jeremy Corbyn and the blatant sexism lies

Saturday 19th September 2015

The furore over Corbyn's shadow cabinet choices is a right-wing media storm in a teacup, says BERNADETTE HORTON

THE whole world it seems has waded into a media-led frenzied lather over Jeremy Corbyn and the gender balance of his shadow cabinet.

Forget looking calmly and matter of factly at the stats, as soon as it is mentioned on Twitter or on the front page of the Daily Mail it has to be fact — "Jeremy Corbyn is a sexist Labour leader who thinks women should be in the kitchen and coincidentally he eats babies for breakfast!"

Maybe I went a little far above, but the storm and controversy surrounding the choosing of Corbyn's first ever shadow cabinet was absolutely devoid of fact at all.

Jeremy was put up against the right-wing press wall and shot — something no doubt he will get used to over the next five years.

The facts are that he appointed 16 women and 15 men to the shadow cabinet and actually it is the very first time more women than men have been appointed — something Blair didn't do, for the record.

So we have 52 per cent of the JC shadow cabinet female, compared with 33 per cent in David Cameron's current Tory Cabinet, and he had to reshuffle that to even get this amount after stinging criticism.

Angela Eagle is appointed as shadow business secretary and will deputise for Corbyn at PMQs on occasion.

The new shadow energy secretary is the inspirational Lisa Nandy, and Lucy Powell who had considerable experience as children's minister under Ed Miliband is the new shadow education secretary. Talented women all.

Could Corbyn possibly have appointed people on talent and ability?

Why should Parliament not want the best person in the best possible role for their talents? …

So the whole furore is a right-wing media storm in a teacup, dreamt up by reporters like those at the Daily Mail who criticised Jeremy at the infamous war memorial service for "wearing a non-matching jacket and trousers." Oh, the impudence of our Labour leader!

Come on, people. Let the right-wing press get carried away on their complete raft of downright lies on gender but let Labour members like us and our trade union comrades stand up and report the facts.

…

Corbyn, more than most male MPs, has an enviable track record of speaking out on female representation, campaigning for funding for women's refuges and intrinsically knowing that women are bearing the brunt of austerity in caring and work-related roles.

Is he sexist as the right-wing media portray him? Never!

Working-class people who are coming back to the party in droves — 40,000-plus so far since last Saturday — want our party to look like the people who they represent.

Of course we want to see more female MPs in the party and of course we want to see them gain promotion to the shadow cabinet. But the bottom line is that they have. And I for one will be looking forward to seeing how the 16 women in the shadow cabinet shape our future party policies, but I will also be equally watching the 15 men too.

…

Bernadette Horton is a Labour Party and trade union activist.
ISIS leader Omar al-Shishani fought under U.S. umbrella as late as 2013: here.
Related articles