This video says about itself:
ISIS MEMBER: TURKEY SUPPORTED US WITH WEAPONS. YPG vs ISIS.

9 May 2015

ISIS MEMBER RECOUNTS HEATED EXCHANGE BETWEEN TURKEY SUPPORTED TERROR GROUPS OVER WHO GETS WHAT OF ARMS DELIVERY.
From the BBC today:
Syrian Kurds accuse Turkey of attacking their forces

22 minutes ago

Kurdish forces in Syria have accused Turkey of repeatedly attacking their units across the border.

Turkey said it was investigating the claims but insisted the Syrian Kurdish units remained "outside the scope of the current military effort".

Turkey launched air raids on Islamic State fighters in Syria and positions of the Kurdish militant PKK in Iraq following violent attacks in Turkey.

Turkey has also said it has no plans to send ground troops into Syria.

The Kurdish People's Protection Units (YPG), the armed wing of the main Syrian Kurdish party (PYD), said that Turkish tanks had shelled the Kurdish-held village of Zormikhar inside Syria late on Sunday evening.

It added that, an hour later, one of its vehicles had come "under heavy fire from the Turkish military east of Kobane in the village of Til Findire".

In a statement on Monday, the YPG said: "Instead of targeting IS terrorists' occupied positions, Turkish forces attack our defenders' positions. This is not the right attitude.

"We urge Turkish leadership to halt this aggression and to follow international guidelines. We are telling the Turkish Army to stop shooting at our fighters and their positions."
TURKEY'S weekend bombing raids on Kurdish targets could spell the end of a two-year ceasefire with the Kurdistan Workers' Party (PKK), the party warned yesterday: here.
Did Turkey Cut a Deal With ISIS to Save Soldiers? The Turks' mission to rescue an ancient Ottoman corpse and its guardians near Aleppo was not a step toward war with ISIS, but a step away: here.
After agreeing last week to join the US-led war against the Islamic State of Iraq and Syria (ISIS), Turkey is preparing to seize buffer zones within Syria, backed by US warplanes and Syrian opposition militias. This escalation follows weeks of talks with a high-ranking US delegation, and a phone call between Turkish President Tayyip Erdogan and US President Barack Obama: here.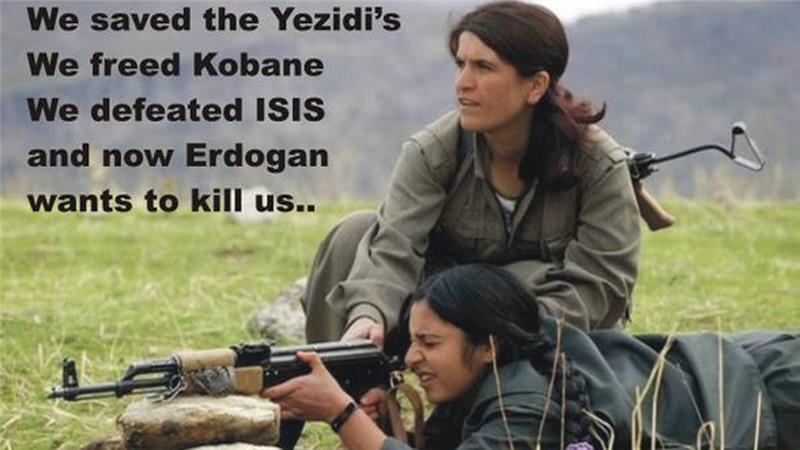 NATO backs Turkish attack on Syria and the Kurds: here.
Kurdish leader decries Turkey's 'safe zone' plan in Syria: here.
NATO on Tuesday gave President Recep Tayyip Erdoğan unanimous support for Turkey joining the US-led military offensive against the Islamic State of Iraq and Syria (ISIS), which is being used as a cover to escalate Washington's intervention against the Syrian regime of President Bashar al-Assad. The quid pro quo secured by Turkey involves US support for attacks on Kurdish forces that, until last week, were being hailed by Washington, Berlin and other NATO powers as the bedrock of the anti-ISIS struggle: here.
THE opposition pro-Kurdish People's Democratic Party (HDP) called for a ceasefire yesterday after Turkish jets blitzed Kurdish PKK militia in northern Iraq overnight: here.
President Recep Tayyip Erdoğan's Justice and Development Party (AKP) government has mobilised the military and police in a country-wide operation targeting both the Kurdish nationalist movement led by the Kurdistan Workers Party (PKK) and the "left" and anti-war opposition in general, arresting more than 1,300 people on terror charges: here.
TURKISH Prime Minister Ahmet Davutoglu lashed out at his US allies yesterday, complaining that arms supplies to Syrian Kurds could wind up in the hands of the Kurdistan Workers' Party (PKK) and be used against his country's armed forces. He also warned Russia not to support the YPG (People's Protection Units) Kurdish militia group, saying: "No-one can guarantee that arms given to the PYD (Democratic Union Party) today won't tomorrow fall in the hands of the PKK and be used against Turkey: here.
Related articles