This video is called Thomas Piketty: New thoughts on capital in the twenty-first century.
From daily The Independent in Britain:
German conservatives are destroying Europe with austerity, says economist Thomas Piketty

The French academic says Germany has failed to learn from history

Jon Stone

German conservatives are on course to destroy Europe with their commitment to continent-wide austerity, one of the world's most influential economists has said.

Thomas Piketty, a French academic who published a bestselling book on capitalism, said the likes of Angela Merkel had failed to learn the lessons of the past.

"This is neither a reason for France, nor Germany, and especially not for Europe, to be happy," he told German newspaper Zeit Online, when asked about the dominance of austerity in policymaking.

"I am much more afraid that the conservatives, especially in Germany, are about to destroy Europe and the European idea, all because of their appalling failure to remember history."

Mr Piketty said Germany's past history of having its debt forgiven by other nations should inform its approach to the current Greek crisis.

The eminent economist is director of studies at the École des hautes études en sciences sociales, a professor at the Paris School of Economics and Centennial professor at the London School of Economics.

In contrast to the widespread support for austerity amongst politicians, most macroeconomists say the policy is damaging.

A survey by the Centre for Macroeconomics released in April this year found that two thirds of macroeconomists believed austerity had not had a positive effect in the UK.

The French government has in recent days softened its stance on Greece's debt, in contrast to Germany – whose stance has hardened after the announcement of a referendum on a deal offered by creditors.

France's economy minister Emmanuel Macron took a similar line to Mr Piketty's last night, warning against re-enacting the 'Treaty of Versailles'.

"Whatever the outcome of the vote, we'll have to resume political talks tomorrow," Mr Macron said in the aftermath of the vote. "Let's not re-enact the Treaty of Versailles."

The 'Treaty of Versailles' was the draconian deal imposed on Germany in aftermath of the First World War.

The resentment and economic damage is believed by many historians to have directly contributed to the rise of Adolf Hitler and the start of the Second World War.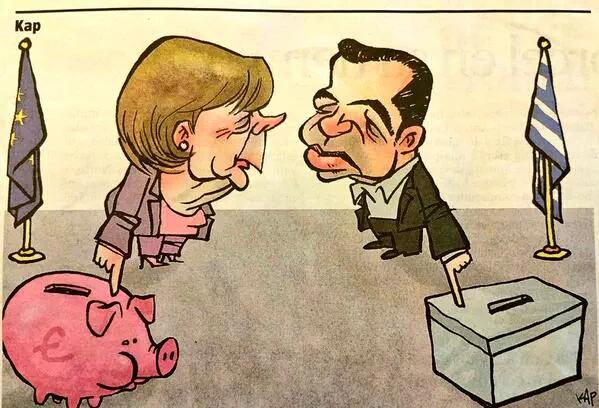 Britain: FRENCH economic superstar Thomas Piketty has joined Labour as an economics adviser, vowing to "expose austerity." The Capital in the 21st Century author is the biggest coup for the new six-strong gender-balanced economics advisory committee unveiled by Labour yesterday. Nobel Prize-winning economist Joseph Stiglitz has also been recruited by shadow chancellor John McDonnell to help him set out a credible alternative to austerity: here.
Related articles