This video from New York City in the USA is called RIP Eric Garner VIDEO 2 – Staten Island man dies after NYPD cop puts him in chokehold.
The last words of New York City African American Eric Garner, while in an (illegal) police chokehold, were 'I can't breathe'. Then, he died.
Unfortunately, it looks like The Hague city in the Netherlands now has its own Eric Garner-like lethal police violence case.
Mitch Henriquez, 42 years old, from Aruba island in the Caribbean, visited a music festival in The Hague as a tourist. As he left, four policemen grabbed him, and practiced a chokehold on him, until he did not move any more. A day later, on 28 June 2015, Mitch Henriquez was dead.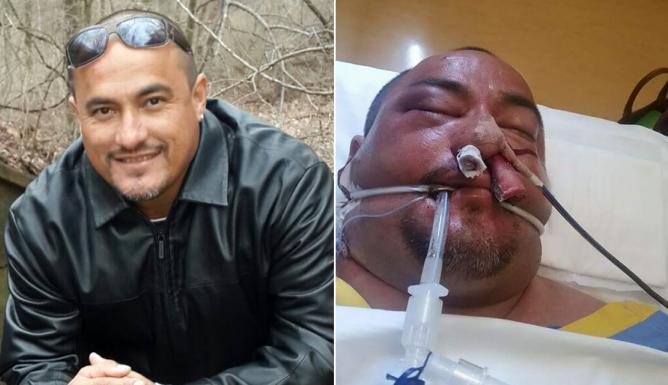 At first, the public prosecutor claimed that Mr Henriquez had become ill while on his way in a police car to a police station.
This video, recorded on 27 June 2015, shows that Mr Henriquez was already not moving any more before being dragged into the police car.
This video is the sequel.
The blog of the The Hague anti-fascists writes about this:
Arubian man beaten to death by The Hague police

Yesterday (Saturday June 27, 2015), Hague police officers beat 42 year old Arubian Mitch Henriquez to death after the "Night in the Park" Festival in Zuiderpark in The Hague, the Netherlands. In a statement, the Prosecutor's Officer (OM) stated that Henriquez began to feel unwell on the way to the police station. However, it is apparent from video footage that he was already unconscious or in a coma before he was thrown into the police bus without receiving any medical attention.

Witnesses said that Henriquez was making jokes with friends after the festival, when a group of officers tackled him. Henriquez fell into a coma, and died today at the hospital. According to bystanders and his family, police officers used a lot of force to arrest him. According to the "official" statement from the OM, Henriquez supposedly yelled that he had a weapon and then resisted arrest, leading to the use of force. Henriquez only began to feel unwell on the way to the police station. Eyewitnesses and a newly released video tell a completely different story. Henriquez was joking around with his friends, and was warned by the police and walked further. Lila also says that he was possibly being a bit loud and boisterous, but not toward the police.

The doctors from intensive care said that Henriquez clearly did not die from natural causes. His sister Lila said in an interview: "his head was completely swollen, he was mainly beaten on his head. How could someone be handcuffed, thrown in the car and then arrive black and blue and unable to breathe?" Henriquez's sister wonders.

The The Hague police department has for years been at the center of many scandals because of (racist) police brutality. On November 24, 2012, 17 year old Rishi Chandrikasing was shot dead at Holland Spoor [railway] station as he ran away from the police. Racist police brutality is also a daily reality in the Schilderswijk and Transvaal neighborhoods in The Hague. In these neighborhoods, seemingly everybody knows somebody who has been a victim of police brutality, or even have even been victims themselves. Victims stated earlier to the local media: "I am often asked to show ID, for no reason. If I ask why, I get taken away and getting beaten up and abused in the police car. It continues at the station. They threw me into the cell and beat me while I was still handcuffed. Afterwards, they sprayed me with the fire hose and left me for the whole night soaking wet in the cell." Even ex-officers speak of a culture of violence and racism in the police unit. These are only a few examples of the racist and violent culture of the police in The Hague, which has always been denied and covered up by police top brass and Hague mayor Jozias van Aartsen.
Man dies in hospital following brutal arrest by Dutch police: here.
Mitch Henriquez was a member of the Aruban opposition political party MEP. Arubans, both in Aruba and in the Netherlands, are deeply shocked.
This 29 June video from The Hague shows a big demonstration, including bikers, protesting against the death of Mitch Henriquez.
Dutch Socialist Party members of parliament Nine Kooiman and Michiel van Nispen suspect that the public prosecutor lied; and they have asked the government questions about this today.
This punk rock music video from England says about itself:
Angelic Upstarts – The Murder of Liddle Towers

Classic debut single from the Upstarts, championing the cause of the Birtley boxer who died after a night in a police cell.
Related articles