This video from Ireland says about itself:
Vote YES to Marriage Equality

8 May 2015

Sinn Féin video featuring Gerry Adams TD, Councillor Emma Murphy and Mayor of Dublin South, Fintan Warfield calling on people to vote Yes to Marriage Equality on May 22nd.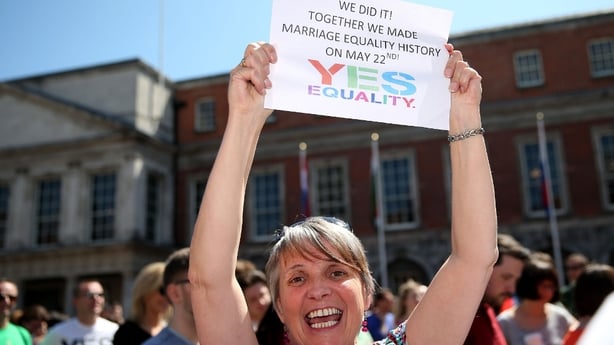 From RTÉ News in Ireland:
Ireland says Yes to same-sex marriage

Saturday 23 May 2015 18.32

Ireland has voted Yes to same-sex marriage, with just a handful of constituencies yet to declare results.

Large crowds have been gathering at Dublin Castle to hear the final official result, which is expected about 6pm.

A number of campaigners against the marriage referendum congratulated the Yes side on its campaign early today.

The first official constituency result was declared in Sligo-North Leitrim with 53.57% there voting Yes and 46.43% voting No.

The highest Yes vote so far, at almost 75%, has been declared in Dublin South East.

One constituency has voted No; the result in Roscommon-South Leitrim saw over 51% of voters there reject the marriage referendum proposal. …

Former Labour party leader Eamon Gilmore stood over his comments made in mid-2012, that gay marriage was "the civil rights issue of a generation".

He said this referendum "was a moment where Irish people expressed their decency and their generosity". …

Director of the National Youth Council of Ireland Mary Cunningham praised a new generation of voters for making a difference.

"It represents a victory not only for the Yes side, but also for Irish society, Irish democracy and the young people of Ireland," she said.

"This result sends a strong message to young people across Ireland that they are valued equally; and that we want to promote respect and eliminate homophobia."

Yes Equality spokesperson Grainne Healy said: "It's an extraordinary day.

"We were going out not telling people to vote Yes, we were going out saying I am voting yes and I'd like to tell you why. That's how the campaign started and that's how it has worked."…

Church needs a reality check – Archbishop

Speaking to RTÉ News, the Catholic Archbishop of Dublin, Diarmuid Martin, said that the Catholic Church [which had campaigned for a No vote] needs "to have a reality check across the board".

He said that he appreciates how gay and lesbian people feel.

"This is a social revolution that did not begin today", he said, adding that it had been going for quite a while.

Archbishop Martin said that the church has a huge task in getting its message out to young people.

"The church needs to ask itself if it has completely drifted away from young people," he said.

He added that most people who voted Yes went to Catholic schools for 12 years, so "there is a big challenge for us to get the message of the Catholic church across".
Also from RTÉ News in Ireland today:
18:30

Anti Austerity Alliance TDs Joe Higgins, Ruth Coppinger and Paul Murphy have welcomed the result of the same-sex marriage referendum.

Mr Higgins said: "Today is a historic day for [the] LGBTQ community in Ireland and internationally. Today's victory is the culmination of decades of struggle which has forced this government and conservative elements in the establishment to hold this referendum."

Ruth Coppinger said "We must now fight as a society for the full separation of church and state. Today's result shows that the church's massive control of health and education is out of kilter with the consciousness of the majority in society."

Paul Murphy said "One of the key characteristics from this referendum has been the massive votes delivered by working class communities, and young people. Many people in working class areas who have never voted have become politicised over the last few years of austerity and turned out in massive numbers to vote for equality."
Translated from NOS TV in the Netherlands, which interviwed a mother of a gay son in Dublin, Ireland:
"My son is 38 years old. Only five years he dared to come out as gay. In that atmosphere he had grown up, thanks to the church," said a female voter.

The church has lost a lot of credit because of the abuse scandals in recent years. "I want my son to be happy," said the woman. "He does not harm anyone and he is not a pedophile. Not everyone in the church can say that."
Don't be blinded by the Yes vote: Ireland is still oppressing its LGBT population. Equal marriage is too often conflated with absolute LGBT equality but the reality continues to be alarming: here.
Related articles