From the International Business Times:
Freddie Gray Protests: New York City, Washington, DC, Among Cities Demonstrating In Solidarity With Baltimore [PHOTOS]

By Julia Glum

April 29 2015 9:23 PM EDT

UPDATE, 9:45 p.m. EDT: Denver police officers used pepper spray at a 100-person protest downtown Wednesday night, the Denver Post reported. They also arrested a number of participants.

Original story:

Activists in New York, Boston, Washington and other cities across the country rallied Wednesday night in solidarity with Baltimore to protest the death of Freddie Gray, the 25-year-old African-American who died last week from injuries sustained while in police custody. Earlier in the week, Los Angeles, Chicago and Ferguson, Missouri, had held protests of their own.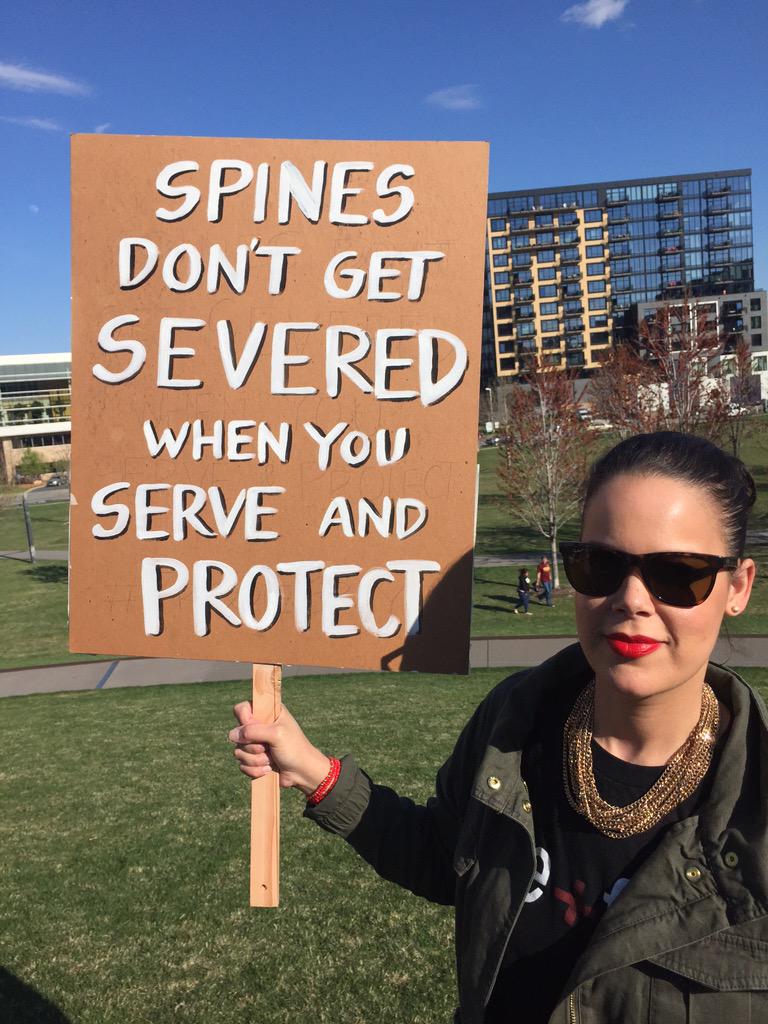 This demonstrator's sign refers to the way Freddie Grey was killed.
"We have a clear message," organizer Brock Satter told the Boston Globe at a 500-person rally in Boston. "We're gonna demand the government indict the killers of Freddie Gray. If you want peace, if you want calm, jail the killers of Freddie Gray."

Gray's death has been compared with those of Michael Brown in Ferguson, Missouri; Eric Garner in Staten Island, New York; and Walter Scott in North Charleston, South Carolina. All were unarmed black men who died during confrontations with police.

Erica Garner, Eric Garner's daughter, spoke at the New York rally. She told protesters that she had attended Gray's funeral on Monday and understood — but did not endorse — the violence. "We need to change this for the next generation," Garner added, according to Black Youth Project tweets. "This has to stop now."

The aunt of Akai Gurley, who was fatally shot by police in Brooklyn, New York, in November, was also in attendance, according to MSNBC reporter Amanda M. Sakuma.

Later in the night, local affiliate ABC 7 reported that New York Police Department officers had begun arresting protesters. At least 12 people had been taken into custody as of 8 p.m.

The size of the protests Wednesday varied, but Twitter posts showed that all of them had the same message: Black lives matter. Several demonstrations were organized around hashtags that declared their solidarity with Baltimore — a phrase that's been tweeted more than 7,000 times in the past week, according to Topsy.

See photos and videos of the protests below.
See also here.
In Photos: Hundreds of New Yorkers Take to the Streets as Freddie Gray Protests Spread Across US: here.
Support grows for Baltimore protests. Protests planned in Cincinnati, Philadelphia today; 3 more on Friday: here.
THE Baltimore protests over the police killing of 25-year-old African-American Freddie Gray have spread all over the USA. Gray died of a spinal cord injury while in police custody: here.
Thousands of people marched in cities from Boston to Chicago to Ferguson, Missouri, to show solidarity with Baltimore and connect the case of Freddie Gray with police killings of unarmed African Americans across the country. In Boston, protesters gathered in front of police headquarters, chanting "Being black is not a crime, same story every time." In Minneapolis, protesters marched across town carrying a coffin. Here in New York City, at least 120 people were reportedly arrested as protesters shut down parts of the Holland Tunnel, West Side Highway and Times Square. Protester Al Patron said attention has focused too heavily on the tactics used during Monday night's uprising in Baltimore and not enough on the underlying problems: here.
Thousands of workers and students demonstrated in Baltimore Wednesday, defying the military-police crackdown in the city of 622,000. Solidarity protests, including those demanding the removal of the National Guard from Baltimore, spread to other cities, including New York City, Milwaukee, Minneapolis and Washington, DC. While the police murder of 25-year-old Freddie Gray was the trigger of social opposition, the outpouring of protests is driven by deeper social causes: here.
Thousands of people participated in demonstrations Wednesday night throughout the United States to protest the ongoing wave of police violence and the military/police crackdown in Baltimore. Protesters took to the streets in New York City, Boston, Washington, D.C., Minneapolis, Denver, Houston, and other cities: here.
On Thursday the Baltimore Police Department completed an internal investigation into the killing of Freddie Gray, 25, whose brutal arrest on the morning of April 12 was followed by a roughly 40-minute van ride, at the end of which Gray was found in critical condition. He fell into a coma and died one week later, a result of complications from a severely broken neck. Protests continued in Baltimore and other cities throughout the US continued Thursday: here.
Freddie Gray: protests across US as Baltimore forced to free 100 suspects. Marches in New York, Boston, Ferguson and Washington, while authorities in Baltimore back down after holding people for days without charge: here.
Why Did Ferguson and Baltimore Erupt? Look to the Government-Backed History of Housing Segregation. The recent African-American uprisings aren't just about police brutality: here.
FREDDIE GRAY ARREST REPORT COMES UNDER FIRE "A leaked police document that claims Freddie Gray was 'intentionally trying to injure himself' while in the back of a police van in Baltimore after his arrest is being questioned due to inconsistencies with earlier reports. Gray died a week after his videotaped April 12 arrest due to injuries sustained under uncertain circumstances while in police custody, sparking protests in Baltimore and around the nation." In New York, thousands rallied to protest Gray's death. [Andrew Hart, HuffPost]
Baltimore State's Attorney Marilyn Mosby gave an update on the investigation into the death of Freddie Gray, the 25-year-old who died after suffering a spinal cord injury while in police custody in April, calling his death a homicide. "We have probable cause to file criminal charges," Mosby said in a press conference Friday. Mosby noted that "no crime had been committed by Mr. Gray": here.
Ferguson And Now Baltimore Prove There's No Free Lunch. We pay, one way or the other, for the way our country leaves the poor out on a limb and far from a leafy gated community: here.
Foreign Lives Matter. American racism at home and abroad only highlights the hypocrisy of U.S. foreign policy. And the rest of the world isn't buying America's message anymore: here.
Twenty-five-year-old Brandon Lawrence, an Afghanistan veteran with post-traumatic stress disorder, was shot by police multiple times outside his home last weekend while his family was inside. Lawrence was pronounced dead at a hospital the following morning, April 26. The two unnamed officers involved have been placed on paid administrative leave: here.
Related articles