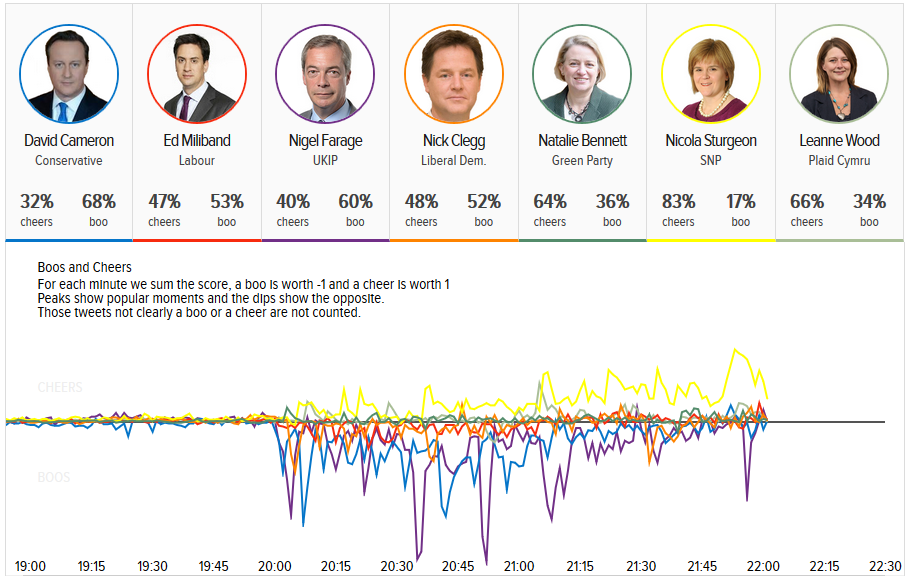 Jamie Bartlett, for British daily The Guardian writes today about this chart, about the first election debate on British TV last night:
On the blog last night I posted an analysis of who won the debate based on Twitter sentiment, compiled by a team involving the Demos thinktank and Ipsos MORI, among others. It shows the three women all had net positive ratings, with Nicola Sturgeon the clear winner, and all four men had net negative ratings.
This might have something to do with the women in the debate opposing Trident nuclear weapons; and the four men supporting them.
Leaders' debates: three women against some public schoolboys. It was the nearest thing to gender balance in the history of British democracy. Did it make a difference? You bet it made a difference: here.
Jubilant supporters have mobbed Nicola Sturgeon during a triumphant walkabout through west Edinburgh the morning after her performance in a TV debate made her the most popular party leader in the UK: here.
Before the leaders' debate, a panel of voters could not identify Nicola Sturgeon from her picture. The morning, her name was the most Googled term in the whole of the UK. That astronomical rise was brought about by her much-praised appearance alongside six other party leaders last night: here.
Nick Griffin's 'racist' black men in kilts anti-SNP advert has the opposite of the desired effect on Scottish followers: here.
Related articles