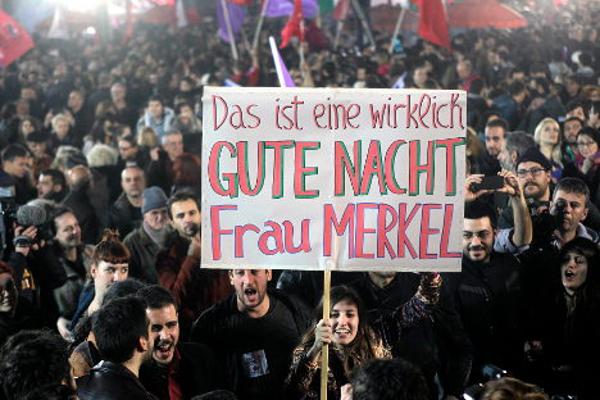 In this photo, the Greek election victors mock German chanchellor Angela Merkel. The sign, in German, says: This is really a good night, Frau Merkel.
From The Local in Germany today:
Mainstream politicians reacted sternly to Syriza's election victory in Greece, while the European Central Bank (ECB) said it would not take a 'haircut' on Greek debts it holds.
Here are the results of the general election in Greece, according to the Greek Ministry of Interior; with 99,86% of the votes counted:
SYRIZA (Coalition of the Radical Left): 36,34% 149 seats
ND (conservatives; main party in the outgoing pro-austerity government) 27.81% 76 seats
Golden Dawn (nazis) 6,28% 17 seats
To Potami (centrist) 6,05% 17 seats
KKE (communist) 5,47% 15 seats
Independent Greeks (conservative, but anti-austerity) 4,75%
PASOK (sister party of British Labour, German SPD, etc. Had over 40% of votes a few years ago. Recently, junior partner of ND in the pro-austerity government. From first party to seventh party): 4,68% 13 seats.
There are 300 seats in parliament. This means SYRIZA has one seat less than half of parliament. They will either have a minority government, or a coalition with another party.
Comments by daily The Guardian in Britain: here.
Related articles