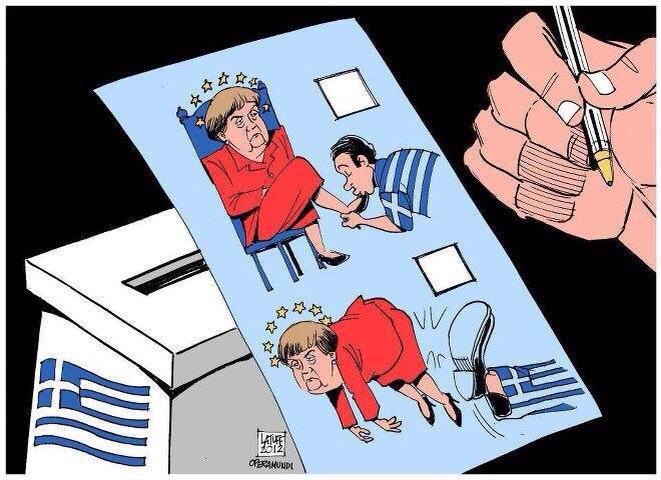 This cartoon is about German Chancellor Angela Merkel and the Greek electorate.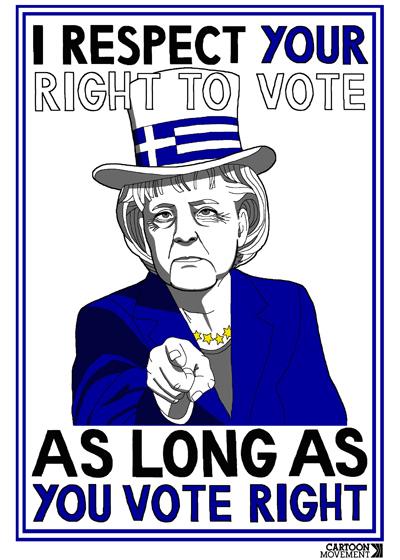 This cartoon about Merkel and Greek elections is by Portuguese cartoonist Gui Castro Felga.
Now that SYRIZA will probably be the next Greek government, on Twitter Bus 42 in Germany tweeted (translated):
This may be dramatic [for the German government], Greece maybe will stop buying [German] weapons now.
German governmental and European Union austerity policies, and buying German and French weapons led to economic and social disaster in Greece.
This video says about itself:
25 January 2015

Hundreds of Syriza supporters gathered in the centre of Athens to watch the first exit polls of the Greek elections, Sunday. Early reports suggest that the left-wing coalition party Syriza could form the next Greek government with a significant majority.
Syriza stood up to the money men – the UK left must do the same. Just imagine: if Labour wasn't so in thrall to economic bodies and their predictions, we might have a radical left of our own: here.
Irish opposition and trade unions welcome Syriza victory: here.
Related articles