This February 2014 video is called Snowfall Blankets North-Western Region of Saudi Arabia.
Saudi Arabia is not just the only country in the world practicing the death penalty by beheading. It is also the only country where women are punished for driving cars.
And, as far as I know, also the only country where making snowmen, or snow camels (or snow turtles) is illegal.
From Gulf News in the United Arab emirates:
Saudi fatwa banning snowmen triggers heated debate

By Habib Toumi, Bureau Chief

Published: 10:21 January 12, 2015

Manama: Saudis in the northern areas drew on their imagination and sense of fun as they braved the cold weather to build snow camels in a rare tribute to the local culture.

One citizen in the Province of Tarif used his snow camel to promote the colours of local teams, drawing praise from the fans, while another opted for the traditional ghitra and agal to cover the head of the snowman he built.

However, it was not all fun for Saudis after a religious scholar said that building snowmen or snow animals was not acceptable in Islam.

The fatwa, by Mohammad Saleh Al Minjed, said that building snowmen or any replica of an animal, even if it is for fun or recreation, could not be condoned. Only lifeless things, such as ships, fruit and buildings could be imitated, the fatwa said. …

No date was mentioned about when the fatwa was issued, but it was widely circulated on social networks, triggering a wide and often heated online debate mainly among Gulf nationals. …

However, Mishaal, an angry blogger, blasted the fatwa.

"We have snow for fleeting days, maybe even hours, and there is always someone who wants to rob us of the joy and the fun," he posted. "It seems that the only thing left for us is to sit down and drink coffee," he said.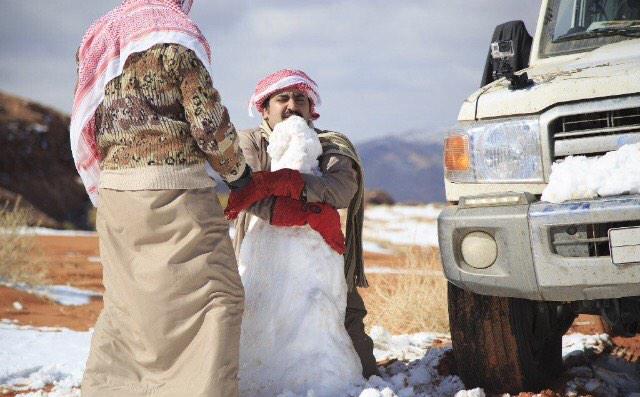 See also here.
This photo shows a snow camel in the Netherlands.
Man fools police with car made of snow – gets a 'parking ticket': here.
Related articles