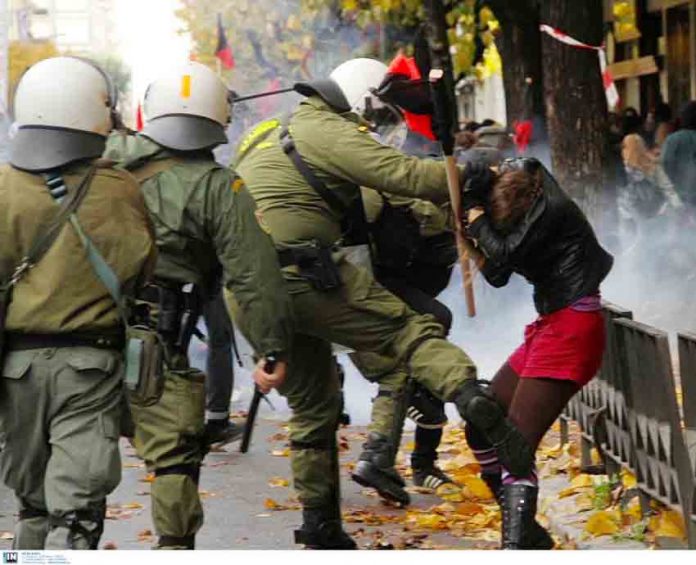 From daily News Line in Britain:
Monday, 8 December 2014

Greek riot police act as occupation army

ARMED riot police unleashed a pre-planned pogrom of sheer violence against mass marches of mainly school and university students in all the main cities of Greece on Saturday.

The rallies and marches attracted tens of thousands on the 6th anniversary of the killing by a policeman of 15-years-old school student Alexis Grigoropoulos on 6th December 2008.

They called for the victory of the 20-years-old jailed student Nikos Romanos, who has been on hunger strike since 10th November demanding his right to educational leave in order to attend lectures.

In Athens on Saturday evening over 5,000 armed riot police acted as an occupation army with two water cannon vehicles operating against demonstrators around the Polytechnic and the Exarkhia area where many students live.

Riot police operated in tandem with scores of 'plain clothes' agents. They made extensive use of smoke and noise bombs and tear gas.

Battles went on all night in the Exarkhia area where demonstrators fought back by throwing stones, fruit and some petrol bombs against the riot police.

Barricades were also erected using rubbish bins set on fire. Riot police made group arrests where over 200 youths were detained. The occupied building of the GSEE (Greek TUC) was attacked by riot police on motorcycles.

In the northern city of Thessaloniki the occupied offices of the Trades Council were also attacked by riot police squads who threw tear gas grenades inside the building.

There were two marches throughout the Athens city centre on Saturday. In the afternoon some 10,000 university and school students, unemployed youths, workers and left-wing parties participated.

The main students' banner at the front of last Saturday's Athens afternoon march proclaimed, 'The state continues to kill – The time has come to overthrow them'.

Anti-government and anti-police slogans dominated the march as well as calls 'For the victory of Nikos Romanos'.

The Saturday evening march in Athens was organised by various anarchist groups and over 5,000 mostly young people participated. As this march entered the Syntagma square in front of the Vouli (Greek parliament) it was viciously attacked by the armed riot police squads and soon clashes spread in most of the Athens city centre.

Events of unprecedented riot police violence against demonstrators was reported from several Greek cities, Thessaloniki, Patras, Agrinio and Mytilini.
Related articles