The paleontological society in Germany on its Internet site sells five silver coins. They show six animal species of which fossils have been found in Germany. Like the woolly mammoth, on the back side of the other coins.
Now, the five other species.
A coin shows Archaeopteryx lithographica; according to many paleontologists the first bird ever. Discovered in Solnhofen in Germany in 1861.
Another coin shows Plateosaurus engelhardti. Plateosaurus fossils have been discovered in Switzerland; but in Germany as well; in 1837 in Heroldsberg.
Another coin shows the pterosaur species Rhamphorhynchus muensteri. Found in 1846 in Blumenberg.
This coin shows the most recent fossil discovery of the series: the small dinosaur species Sciurumimus albersdoeferi, found in 2012 in Painten.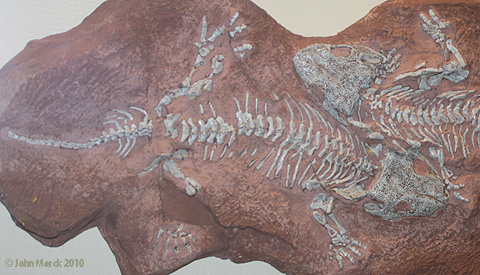 Finally, there is a coin with the oldest fossil animal of the series: Seymouria sanjuanensis, an ancient amphibian from the Permian age; discovered in 1966 in Tambach-Dietharz.
Related articles