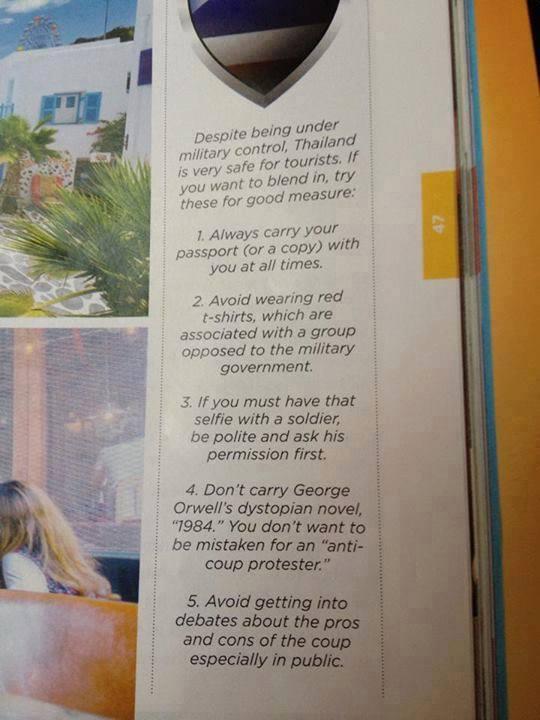 From daily The Independent in Britain today:
In-flight magazine urges passengers: 'Don't take Orwell's 1984 to Thailand'

Posted 23 minutes ago by Evan Bartlett

An airline has warned passengers not to take a copy of George Orwell's 1984 to Thailand, where a strict military regime is in power.

A photograph on social media shows an in-flight magazine, purportedly from Philippine Airlines, with a list of five tips on how to blend in seamlessly in the south-east Asian country.

Tip number four urges tourists not to carry a copy of Orwell's dystopian novel should they be mistaken for an "anti-coup protester".

Thailand has been controlled by a military junta since a coup in May – the regime has banned international media and a man was allegedly arrested last month for reading a copy of 1984 in public.

i100 has contacted Philippine Airlines and is awaiting comment.
GENERAL NAMED THAILAND'S PRIME MINISTER "Three months after overthrowing Thailand's last elected government, this Southeast Asian nation's junta leader is stepping out of his army uniform for good — to take up the post of prime minister in a move critics say will only extend his time at the helm and consolidate the military's grip on power. Thailand's junta-appointed legislature voted unanimously Thursday to name Gen. Prayuth Chan-ocha to the new job during a session in Bangkok." [USA Today]
General Prayuth Chan-ocha, Thailand's coup leader, was unanimously chosen as the country's new prime minister on Thursday, by a National Legislative Assembly (NLA) he had hand-picked. The NLA, which is stacked with military figures and a handful of business leaders, was installed last month by the ruling junta, which seized power on May 22, ousting the elected Pheu Thai Party government of Prime Minister Yingluck Shinawatra: here.
Bangkok's Big Brother is watching you. General Prayuth Chan-ocha is determined to make Thailand a happy place. He's doing this by throttling civil liberties. Abigail Haworth charts the surreal rise of his despotic regime: here.
Egyptian student arrested carrying copy of Nineteen Eighty-Four: here.
Related articles