This video from British ITN TV says about itself:
UKIP's Godfrey Bloom hits reporter Michael Crick with party brochure

20 September 2013

The MEP Godfrey Bloom has defended branding women at a UK Independence Party event "sluts" and lashed out at a Channel 4 News reporter. He was heard shouting "this place is full of sluts" in response to comments made at the gathering in London. When the UKIP spokesman was asked whether he thought it was appropriate by reporters outside, he said: "I made a joke and said 'oh well you're all sluts' and everybody laughed including all the women."

In a reference to previous comments made by Mr Bloom that he was keen to deal with women's issues because they did not "clean behind the fridge enough", a Ukip woman is heard joking: "I too have never cleaned behind my fridge." Mr Bloom is then clearly heard responding "This place is full of sluts" on the audio clip recorded by the Huffington Post website.

The MEP also hit Channel 4 News journalist Michael Crick over the head with a copy of the Ukip's conference guide when asked why there were "no black faces" on the cover. Report by Tom Ellis.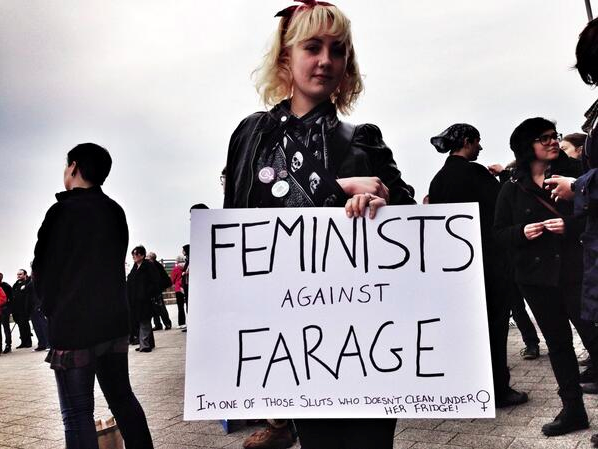 By Joana Ramiro in Britain:
Inmmigeant-hating Ukip employs Latvian migrants for leaflet drop

Friday 9th May 2014

ACTIVISTS accused anti-immigrant Ukip of hypocrisy yesterday after the party was found to be paying eastern Europeans to deliver its leaflets.

Ukip posters and leaflets loudly warn that millions of Bulgarians and Romanians are eagerly waiting to steal British jobs.

But the head of company Fast Leaflet — which Ukip uses to distribute its immigrant-bashing propaganda in south London — said the company employs several people from eastern Europe.

Anti-racism campaign Hope Not Hate's Simon Cressy said that if the reports that Latvians were delivering the leaflets were true then "it just goes to show the hypocrisy that lies behind their attempts at scaremongering."

Former banker Ukip leader Nigel Farage was keenly promoting the party's ethnic minority candidates at a campaign meeting on London on Wednesday, despite being caught up in a string of controversies over Ukip members' apparently racist and homophobic views.

Hundreds gathered outside the Nigel on Tour London event to protest.

South London school student Nathan Rogers told the Star that he was there because he opposed "all forms of right-wing extremism."

He said: "People have fought and died to make racism unacceptable in society.

"If you just let this bunch of bigots, homophobes, racists and capitalists in again then … it happened in the '30s and might well happen again."
Related articles