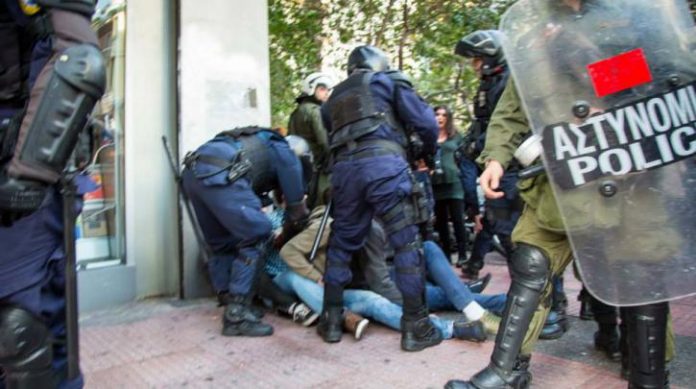 From daily News Line in Britain:
Saturday, 1 February 2014

GREEK RIOT POLICE ATTACK YOUTH

THE 'Delta' mobile Greek riot police units arrested 47 protesting students last Thursday outside the private office of the Merchant Marine Minister M Varvitsiotis in Athens. They were protesting over the Farmakonisi Aegean sea island refugee drownings on the night of 19 January.

Later, students staged a picket outside Athens Police HQ where 46 arrested students were released; one was charged with 'resisting police'.

Last Wednesday, the Commander of the Greek Coast Guard, Dimitris Bantias, stated at a parliamentary committee looking into the Farmakonisi drownings of three women and nine children: 'I take responsibility, I ask for forgiveness from the families of those drowned, from all of you, from the minister and the government, from all Greeks, we did the best we could.'

In an open-air press conference last Saturday outside the Vouli (Greek parliament), three Afghan refugees that survived at the Farmakonisi, accused the Greek Coast Guard boat that approached them of deliberately ramming them in order to drown them and indeed the Coast Guard boat, claimed the refugees, succeeded in drowning the three women and the nine children.
Related articles