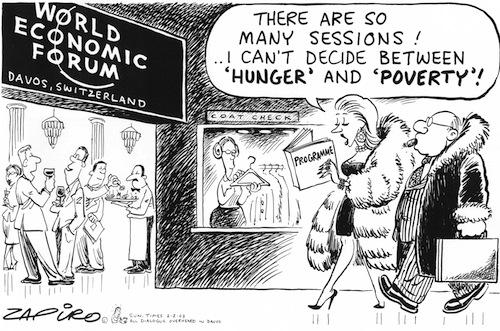 This cartoon is about the World Economic Forum conference.
The cost of attending the World Economic Forum conference in Davos, Switzerland, is estimated by CNN at around $40,000 per person.
In the British Labour Party, prices are not at that millionaires-only level yet. Still, they are going in the wrong direction.
From Bernadette Horton in Wales:
Message to Miliband – Don't price me out of the Labour Party

Wednesday 22nd January 2014

Attending the Welsh party conference is well beyond the means of ordinary people, writes BERNADETTE HORTON

I recently received an email from Welsh Labour, excitedly informing members of the upcoming Welsh Labour Party conference at the end of March.

As it is being held in north Wales, not too far from my home, I set about making plans to attend.

Being working poor means I have a careful list of priorities over what the household budget is spent on, but I reasoned that if I was careful and saved up the money for the 30-mile train journey and enough for the odd cup of coffee, I would be able to participate and hear what the Labour hierarchy in Wales are planning for the coming year and their priorities for Wales itself.

My husband said he would go too, as he has not been to a conference before.

I followed the link on the email to book the pass needed for the two-day event and to see where the gala dinner was being held and what it cost.

My enthusiasm for both was quickly dampened. To my dismay and anger, a two-day pass to attend the conference is £45 per person. A ticket to the gala dinner is £63. If my husband and I wanted to attend both, it would set us back £216 plus travel.

I understand the gala dinner is a fundraising event, but £63 a ticket?

How is that justifiable for rank-and-file Labour Party members?

And more upsetting is that in order to participate and hear speeches from my own party, it would cost me £45 for the privilege.

Ed Miliband's views will be echoing around the venue only to people who can afford to listen to him, not the very people he has been speaking about recently – the working poor, the people for whom the "cost of Cameron," as he puts it, is far too high a price to pay.

Does Miliband just want to listen to the middle-class party faithful or does he want to hear the voices of ordinary people asking questions that affect their daily lives and those of their communities?

Miliband needs to hear about the overwhelming rise of zero-hours contract agency hired staff throughout Wales.

He needs to hear of how few full-time jobs there are in coastal communities which have large numbers of seasonally employed people who then get laid off for four or more months each year.

He needs to hear about how rural communities in Wales, which are many, are severely hit by diesel and petrol costs, where village bus services and post offices are being axed daily.

He needs to be aware of and act on the large numbers of Welsh tenants hit by the bedroom tax, and acknowledge at least that, with Wales having the highest proportion of disabled and sick people out of all the nations of Britain, Capita assessments are not the answer.

At the gala dinner Miliband will be seated with the Welsh First Minister and all the AMs and middle-class socialists and businesspeople who can afford to attend.

Wouldn't it be better if he were able to chat with someone who is desperately looking for work, an NHS worker or two, a mum having to turn to food banks to feed her family?

For that is the way that Miliband will learn what is going on, both in Wales and throughout England and Scotland, and he'll then be able to adjust Labour policy accordingly.

For an unemployed person to gain access to the Welsh conference, they'd have to stump up two-thirds of their weekly unemployment benefit.

It is more than shameful that Labour Party members need significant means to hear what the plans are for their own party and to participate in its politics.

My simple message to Miliband is – don't price me and other Labour Party members out of our own party.

Listen to the voices of the working class and the poor, alongside the middle classes, to gain an accurate view of what direction Labour needs to be travelling in.

And invite some of us to participate in the conference for free and perhaps attend that gala dinner at a reasonable cost.

You may learn something beneficial to power you to victory in 2015. Never forget the Labour Party's name. Workers shape the Labour Party. Don't price them out.

Bernadette Horton blogs at mumvausterity.blogspot.co.uk.
Related articles