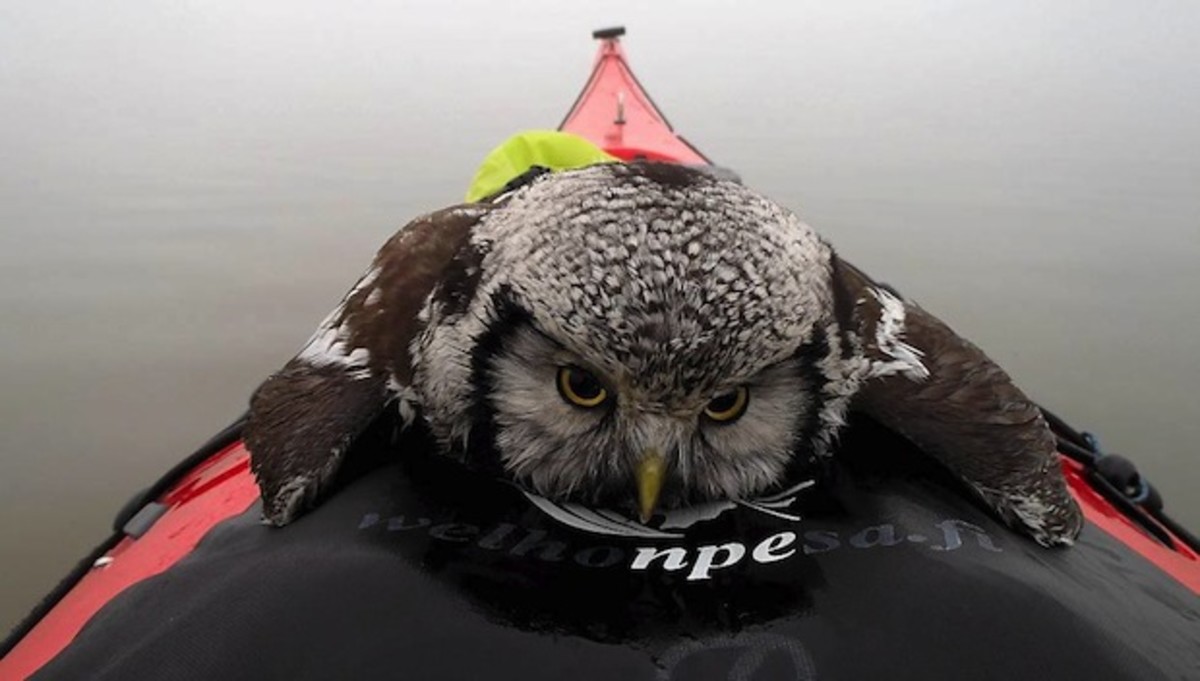 Translated from Vroege Vogels TV in the Netherlands:
Exhausted owl recovers aboard a canoe

Monday, November 11, 2013 17:05

The Finnish adventurer Pentti Taskinen has saved an exhausted and soaked northern hawk-owl from Lake Tuusula. After he managed to bring the bird to safety in his canoe he made some unique photographs of the owl recovering from his perilous adventure in the icy water.

"At first I thought it was an otter in the water," Taskinen said in the Finnish press. Only when he approached he saw that it was a bird. "The lake is freezing around this time of year. The owl probably would not have survived if it would still have remained for slightly longer in the water". After he had brought the northern hawk-owl out of the water he began to warm the bird's head. A while later he set the bird free in the Finnish nature.

The northern hawk-owl is a species of mixed northern forests, often in the upper zone on mountain slopes. Unlike many other owls, northern hawk-owls are partially active during the day. … The adults have a finely banded underside, like a sparrowhawk. In the Netherlands the species so far has been found three times , most recently in 2005 in Drenthe province. Currently, an individual is in Germany, 70 kilometers from the Dutch border near Winschoten.
Related articles