petrel41:
More destruction for profit …

This video says about itself:

4 July 2013

Property developers destroy ancient pyramid in Peru

Property developers have illegally torn down a 5,000 year old pyramid in Peru using heavy machinery. The pyramid, which was built before the Incas, stood six metres high and was part of the oldest archaeological site in the country.

The mayor of the city of San Martin de Porres near Lima, where the site is located, Freddy Ternero, said developers destroyed the pyramid deliberately: "They had asked for a certificate for the absence of archaeological remains which was denied by the Ministry of Culture because of the obvious existence of archaeological remains. So they knew, they knew very well about the marked-off area. They did this on purpose. And from what the archaeologist has explained to us, it was planned down to the millimetre with a lot of people involved in the crime making it difficult for them to react before the police arrived."

A government minister confirmed that developers had tried to destroy three other pyramids but were stopped by locals. The department of cultural patrimony has lodged criminal complaints against the two companies involved.

After the corporate destruction of a Mayan pyramid in Belize …

Farmers bulldoze ancient tombs in Libya to sell plots to developers. The country's fragile political situation leaves authorities unable to intervene: here.

Related articles
Originally posted on Earth First! Newswire: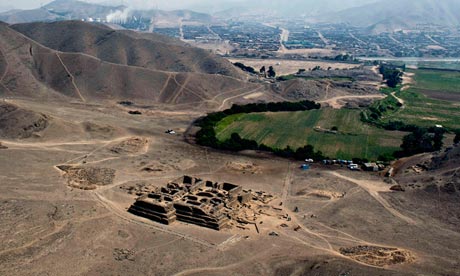 El Paraiso, the archaeological site some 40km north of Lima where the 20ft pyramid was torn down. Photograph: Ernesto Benavides/AFP/Getty Images
Real estate developers using heavy machinery tore down a 20ft (6m) tall pyramid at one of Peru's oldest archaeological sites, cultural officials have said.
Rafael Varon, deputy minister of cultural patrimony, told reporters on Wednesday that the destruction occurred over the weekend at the ruins of El Paraiso, a few miles north of Peru's capital, Lima.
He said his agency has lodged criminal complaints against two companies for the damage – identified as Alisol and Provelanz – and has moved to seize the equipment used. People who answered the telephone at both companies said no one was available to comment.
Peru's tourism ministry says El Paraiso was built some 4,000 years ago and was a religious and administrative centre, long before the rise of the Inca…
View original 135 more words