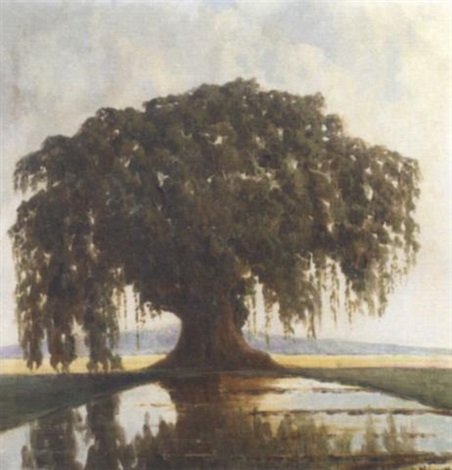 From The Newsletter of the International Institute for Asian Studies in the Netherlands:
The painter Willem Imandt revisited

The so-called Mooi Indië (Beautiful Indies) genre of painting has been both wrongfully neglected and scorned.

The paintings were mostly dismissed as the inadequate products of artists lacking in classical training.

Willem Imandt (1882-1967), about whom little was known until recently, was one of the artists unjustly relegated to this poorly defined and unappreciated genre, which was most unfortunate as only a few years of his artistic development could, in fact, be categorised as Beautiful Indies. Just a small handful of his paintings found their way into museums, yet many of his pieces have fortunately been preserved in private collections.

Paul van der Velde

Increasing interest

The number of publications on Dutch East Indies' art reflects the increased interest in foreign painters working in Indonesia.

This interest comes mostly from well-to-do Indonesians who have started to appreciate the colonial period paintings by western artists. Add to that number the more than half-a-million strong 'Indo' population of Dutch-Indonesians who fled Indonesia after it became independent in 1949.

Auction houses took notice and now conduct auctions for 'Indonesian' art, whilst galleries in the Malay world organise exhibitions of colonial paintings on a regular basis. Dutch museums also became actively involved; their approaches noticeably changed from 'colonial' to 'mutually culturally influential'. The contours of this shift towards a mutual appreciation started appearing at the beginning of the 1960s.

Renewed appreciation

Said appreciation became clear in the monumental five-volume Paintings and Statues from the Collection of President Sukarno of the Republic of Indonesia (1964) edited by one of the most famous Indies painters, Lee Man Fong. The focus of the book is on the work of Indonesian painters, but western artists are very much present. With five paintings Imandt is well-represented.

This publication is likely the reason for the revaluation of paintings made in/of Indonesia, and the increased interest in them.

In 1967, J.H. Maronier published Pictures of the Tropics, which mainly deals with pictorial art in the Dutch Indies. One year later the groundbreaking work by J. de Loos-Haaxman, Verlaat Rapport Indie, appeared. She was a curator of the Batavische Kunstkring (Batavian Art Group) and knew Imandt personally.

Imandt sits at the top of her list of Dutch artists in Indonesia because his contemporaries considered him to be the most famous artist on Java in the 1920s.
Also from The Newsletter of the International Institute for Asian Studies:
Leonardus Joseph (Leo) Eland, painter of 'Mooi Indie'

The Dutch East Indies painter Leo Eland (1884-1952) was a successful artist in the first half of the twentieth century, initially in the former Dutch East Indies and later in the Netherlands. He is featured in seminal works such as Indië omlijst (Indies framed) and Beyond the Dutch, but relatively little is known about him.
Related articles