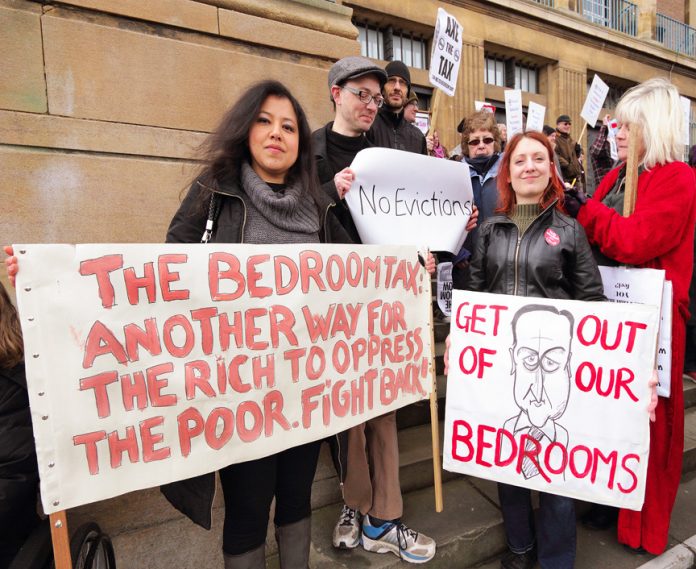 From daily News Line in Britain:
Tuesday, 28 May 2013

BEDROOM TAX EVICTIONS!

FAMILIES failing to pay their rent because of the 'bedroom tax' are already being threatened with eviction, just weeks after it came into force.

Thousands of people are at risk of losing their homes as councils and housing associations clamp down on those in rent arrears.

Data from 107 local authorities shows that 86,000 households have been forced to look for one-bedroom homes, of which only 33,000 have become available in the past year.

False Economy, the trade union-backed campaign, used freedom of information laws to get the data.

A spokesman said: 'The disparity between the demand for one-bed housing and a whole year's worth of supply is so severe that there is little hope of plugging the shortfall.'

The False Economy spokesman went on: 'Tens of thousands are facing a crisis'.

Councils in many areas began sending notice of arrears letters within weeks of the Bedroom Tax coming in on 1st April, many of which threaten eviction in the long-term if rent is not paid.

The Bedroom Tax has so far affected around 600,000 families nationwide.

They have seen an average of £14 a week cut from their housing benefit.

14 per cent of a tenant's housing benefit is removed for having one 'spare' bedroom and 25 per cent for having two or more.

David Orr, Chief Executive of the National Housing Federation, said: 'For some the only option is to move into homes for private rent, which in many parts of the country are much higher than social rents.'

He went on: 'The Bedroom Tax is an ill-thought-through and unfair policy that will cause distress for hundreds of thousands of people forced to move from homes and communities in which they have lived for years.

'It must be scrapped now.'

Homeless charity Crisis Chief Executive Leslie Morphy said: 'Without enough one-bedroom homes to move into, tens of thousands are powerless to avoid the anxiety, debt and arrears caused by the Bedroom Tax.

'Our fear is that many, through no fault of their own, will in the end become homeless as a direct result.'
UK's "Bedroom Tax" drives grandmother to suicide: here.
Related articles