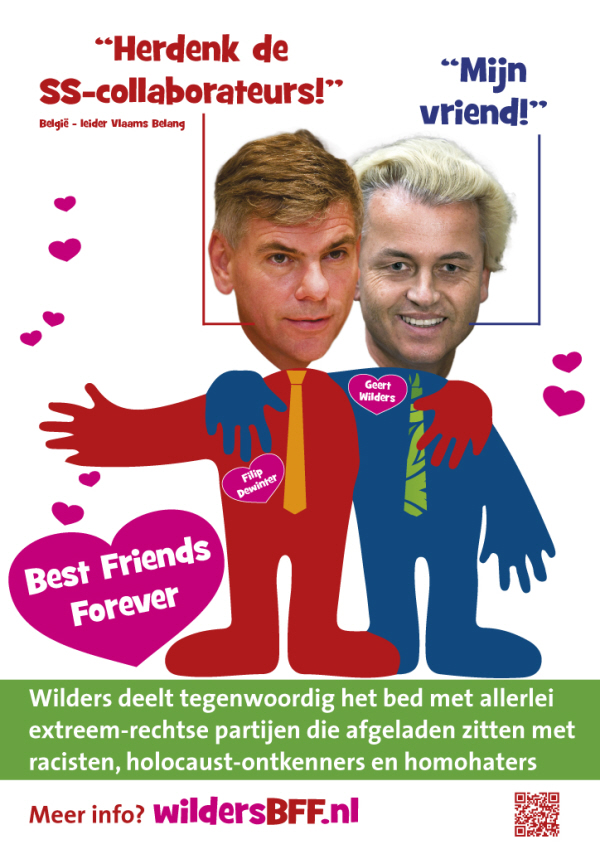 This poster shows Dutch PVV leader Wilders with Vlaams Belang leader Dewinter, who says: Honour the World War II nazi collaborators!
Yesterday, there were municipal elections in Belgium.
The main focus in international media reports of that is on the gains of the Flemish nationalist NV-A party.
However, this Associated Press report also pays attention to one other outcome of the elections, though only in three sentences:
While De Wever's NV-A surged on Sunday, the extremist anti-foreigner Flemish Interest party crashed. "We saw our voters flee to the NV-A," Flemish Interest lawmaker Gerolf Annemans said.

"Our city was the European base of the radical right wing for two decades. This era ends today," a triumphant De Wever said.
While there is an objectionable Rightist, Thatcherite, undercurrent in the NV-A, it does not have the white supremacist racist ideology of the Flemish Interest, Vlaams Belang.
Vlaams Belang is a sister party of the neo-fascist Front National of Marine Le Pen in France. They invite the violent Hungarian nazis of Jobbik to speak at their meetings. They honour Flemish politicians who in the 1940s collaborated with the occupation of Belgium by Adolf Hitler; and call for amnesty for Flemish SS war criminals.
In the last local elections before yesterday, Vlaams Belang had 29% of the votes in the district of Antwerp, the biggest city in Flanders. Yesterday, they got just 9,4%.
In the district of Gent, the second biggest city of Flanders, Vlaams Belang went from 20% to 8%.
Sometimes, it seems that the rise of extreme Right parties like the Hungarian nazis of Jobbik and the Greek Golden Dawn nazis is inevitable in these times of crisis. It is not. If there seems to be no credible alternative from the Left against the policies of austerity and war, then fascists may profit.
However, in Antwerp and other local authorities in Belgium yesterday, there was progress not only for the separatist NV-A, but also for the far Left PVDA (Party of Labour). This party was originally founded as a Maoist party decades ago, and had never managed to get just one seat in the Antwerp local council. However, yesterday they won 9,1% of the Antwerp district votes, giving them three seats, the same number as Vlaams Belang, who had won very many more votes than them last time.