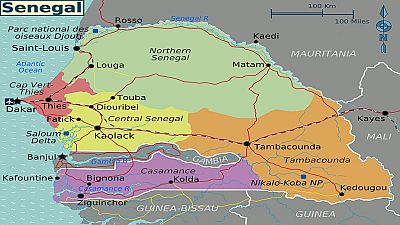 What happened during the fights of Portuguese, English, French and other slave traders and colonialists in Senegal and the Gambia which we have written about, with the Casamance river valley, south of the Gambia?
While the Portuguese lost the Gambia and (northern) Senegal relatively early, these two after many conflicts becoming English, respectively French, colonies; the Casamance valley stayed a Portuguese colony, governed jointly with Guinea-Bissau to the south, until the late nineteenth century, when the Portuguese ceded it to the French.
Today, the Portuguese-based Kriolu language is still spoken in the Casamance; while French is the official language in Senegal.
While in (northern) Senegal, and the Gambia, over 90% of people are Muslims, in the Casamance Christianity (about half of local people) and traditional African religions are stronger.
The Casamance is also traditionally a rainforest region, while (northern) Senegal is more savanna.
Then, in the 1950s, as British Prime Minister MacMillan said, the "winds of change" started blowing over Africa.
More and more Africans, both moderate and militant, demanded an end to European rule and economic exploitation. At first, European ruling politicians refused. If there should be any change in colonial policies, some thought, it should be in the direction of the "Eurafrica" concept: France, Belgium, Portugal, etc. not ruling their colonies separately, but, as European political integration proceeded, jointly as common European colonies.
However, European colonial politicians gradually became convinced that colonialism should be replaced with neo-colonialism. Meaning that the biggest palace in the capital should no longer be called "governor's palace", but "president's palace", with an African head of state instead of a white governor living in it. That the colonial power's flag should be replaced with a new African country's flag. Etc. However, in their view, economic decisions should still benefit Western multinational corporations, like under open colonialism. If necessary, French, British etc. soldiers should still have bases.
Thus, in 1958, France proposed a "French Community", headed by France, with the former colonies as "member states".
The French colonial governments won referendums on this Community in the African colonies, including in Senegal; except in Guinea-Conakry.
The leader of the independence movement in Guinea-Conakry, Sekou Touré, a trade unionist, rejected neo-colonialism. That made him a problem for Western rulers.
In this, he was somewhat similar to Lumumba, pro-independence leader in ex-Belgian Congo; and Kwame Nkrumah, pro-independence leader in ex-British Gold Coast (Ghana). Lumumba was murdered with complicity of the CIA and the Belgian secret service. Kwame Nkrumah was driven away by a CIA-supported military putsch.
In Guinea-Conakry, there was neither murder of Sekou Touré nor a coup. However, the departing French colonial officials made sure the newly independent country got as bad a start as possible, destroying the infrastructure and taking even the electric bulbs with them to France.
Meanwhile, Senghor, president of officially now also independent Senegal, wanted to continue to have good relations with France. France helped him in putting down a pro-independence movement in Casamance. That movement in the 1960s had support from southern neighbour state Guinea-Conakry. Also among pro-independence fighters in Guinea-Bissau, the Portuguese colony then also bordering on southern Casamance, it had some support.
President Senghor of Senegal reportedly temporarily defused the Casamance issue by promising Casamance people they might get independent in 1980.
That promise was not kept. Which led to armed conflict, still continuing today. The present president of Senegal, Wade, has not just this conflict on his hands; also the issue of general dissatisfaction with his rule.
Related articles