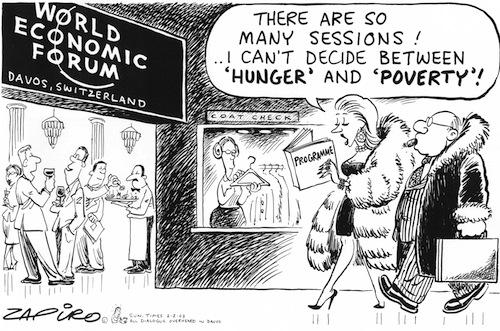 Two years on from the biggest financial crisis to strike world capitalism since the 1930s, leading international bankers made clear at last week's World Economic Forum in Davos, Switzerland that they will resist any attempts to rein in their speculative practices: here.
USA: On Wednesday, the insurance giant AIG paid out an estimated $100 million in year-end bonuses to traders in its financial products unit, part of a $195 million pool to be awarded by March—a total larger than last year's payments to the same group of derivative traders: here.
Washington lawyers and lobbyists helped US bankers launder millions of dollars for arms dealers and corrupt African politicians, a Senate committee has warned: here.
A new report on hunger in the United States paints a devastating portrait of social misery confronted by the working class. One in eight Americans now requires assistance from emergency hunger relief organizations: here.
A house fire after a utility shutoff claimed another victim, the latest in a series of tragic and entirely preventable deaths in [Detroit,] the poorest large city in the US: here.
USA: Major symphony orchestras are facing a funding crisis as the recession deepens. Ticket sales are falling, while support from corporate sponsors is being cut back: here.
Strikes have broken out in opposition to the austerity measures being imposed by the Greek government: here.
Following the closure of the Opel factory in Antwerp, Belgium, further European factories face closure—in particular, the Bochum factory in Germany: here.
Stock markets in the US, Europe and other regions plunged yesterday in response to growing fears over the size of sovereign debt in several countries: here.