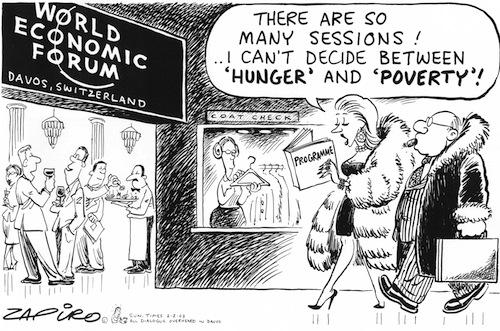 From British daily The Morning Star:
Snouts in the trough an insult to world's poor

Friday 10 July 2009

Leaders of the G8 nations including Gordon Brown have been blasted for guzzling gourmet treats at a summit banquet while a billion starve.

The dinner in L'Aquila included hand-made miniature macaroni, roast lamb and sweet pizza dessert.

Meanwhile, Mr Brown's wife Sarah was joining the other G8 spouses for a "ladies' breakfast," including unusual delicacies like liquid cake of peas and hot and cold chocolate with fennel.

Meredith Alexander, the head of G8 policy at ActionAid UK, said: "The G8 wives are dining on some very unusual foods.

"Will they spare a thought for the people who eat strange meals out of necessity rather than choice?

"Communities we work with in Kenya have to eat poisonous loma berries when rains and harvests fail. The 'dish' takes two days to prepare as the berries must be boiled for 12 hours to remove the poison.

"This is just one example of the desperate measures the billion people with chronic hunger are driven to every day."
Not mentioning Haitians eating mud …
Food imperialism: Norman Borlaug and the Green Revolution: here.