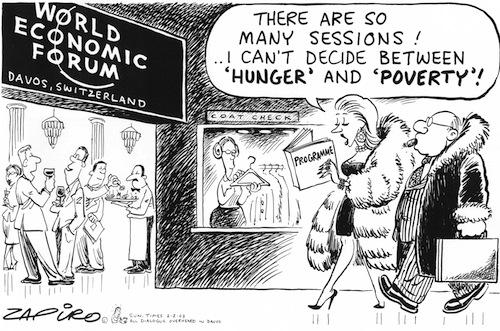 From British daily The Morning Star:
Geneva bans protests

(Thursday 22 January 2009)

AUTHORITIES in Geneva took the decision on Wednesday to ban protests against a gathering of the global political and economic elite that kicks off in Davos next week.

Demonstrations against the Davos World Economic Forum were to be held in Geneva because protests in the vicinity of the exclusive Alpine resort have already been ruled out.

The cantonal government said that memories of the 2003 anti-G8 demonstrations in Geneva, which exploded into rioting, were still in the minds of Geneva officials.

They warned that there will be "consequences" for anyone who violates the prohibition. Swiss Workers Party activist Leonardo Schmid said that he still hopes to reach an agreement with the cantonal government to allow the protest to go ahead.

The small Les Communistes party released a statement warning that "the decision risks producing the opposite effect to what was intended and could provoke incidents, because some people will not submit to this diktat."
Arianna Huffington on Davos: here.
It's ludicrous that men dominated the debate in Davos: here.