This March 2015 video from Canada says about itself:
Wild British Columbia Salmon: The Five Species and Lifecycle – BC Salmon Marketing Council

It is this mysterious and wondrous life cycle of wild salmon that creates five distinct salmon species. All share a similar outward appearance, but they vary in size, ranging on average, from 2 to 9 kilograms with large spring salmon ranging up over 30 Kilograms … This diversity of species provides chefs and the consumer with limitless opportunities for creativity when it comes to menu items.

THE SPECIES

• Chinook salmon (Oncorhynchus tschawytscha) is the largest of the species, sought after for its rich flavour, and its firm flesh that ranges in colour from ivory white to deep red.
• Coho (Oncorhynchus kisutch) is recognized for its versatile flavour, and fine-textured, consistently red flesh.
• Chum salmon (Oncorhynchus keta), offering a milder, more delicate flavour has a creamy pink to medium red flesh colour.
• Pink salmon (Oncorhynchus gorbuscha) is the smallest species, lighter in colour and also prized for its delicate flavour, and
• Sockeye (Oncorhynchus nerka) is a popular species most cherished for its deep red, firm flesh and rich flavour.
From the Dear Kitty ModBlog Google cache.
8/14/05 at 7:35AM
In the USA, under the George W. Bush administration, not just the national forests are in danger; not just the wildlife refuges in Alaska and elsewhere.
Also the Pacific salmon rivers.
Associated Press writes:
Federal Government Cuts Back Pacific Salmon Critical Habitat, Reducing Miles of Protected River

By JEFF BARNARD, Associated Press Writer

GRANTS PASS, Ore. Aug 13, 2005 — The federal government has cut back the critical habitat for 19 species of threatened and endangered Pacific salmon, arguing that an earlier designation demanded by environmentalists was poorly executed and that voluntary habitat improvements will work better.

The move announced Friday reduces the miles of protected river in Washington, Oregon, Idaho and California by 80 percent from 167,700 miles to 33,300.

In those areas, activities such as logging, construction and livestock grazing is restricted to avoid disturbing the stream beds where the salmon migrate and spawn.

NOAA Fisheries, the federal agency responsible for bringing more than two dozen salmon and steelhead species in the Northwest and California back from the danger of extinction, agreed to revise the habitats after being sued by the National Association of Home Builders for failing to include an economic impact analysis when they were set. …

The [new] designation also exempts rivers on … military bases, private land with habitat conservation plans in force, and some urban areas where the economic impact on the area's businesses would be too great.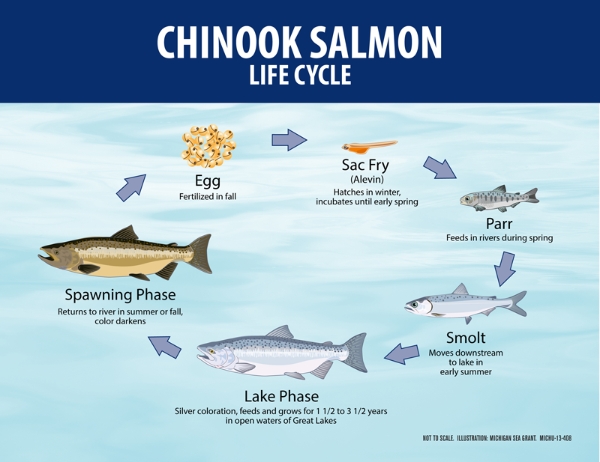 In a year when the Central Valley fall Chinook salmon population has reached a record low level, one of the largest salmon ever recorded in California was found dead of natural causes in lower Battle Creek near Red Bluff last month by a Department of Fish and Game (DFG) survey crew: here.