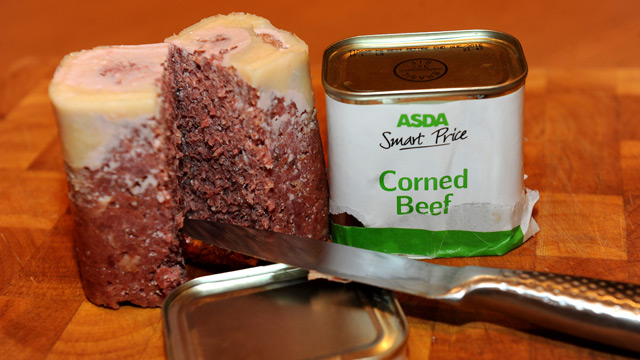 From daily The Morning Star in Britain:
Asda recalls corned beef after drug traces found

Wednesday 10 April 2013

Supermarket Asda
owned by Walmart in the USA
recalled all corned beef from its budget range today after traces of veterinary drug bute were found in some batches.

The Food Standards Agency has confirmed that "very low levels" of the painkilling medicine were detected in Asda's Smart Price corned beef.

Customers who have bought the tins, with any date code, have been urged not to eat its contents but to return it to one of its supermarkets.

Asda withdrew the product on March 8 after it was found to contain more than 1 per cent horse DNA. Bute was detected in some samples.

Shadow environment secretary Mary Creagh said: "This product was withdrawn from sale on March 8 yet has only been formally recalled now, after testing positive for bute, meaning people could have unwittingly been eating meat containing this drug for the last month.

"This exposes the weaknesses in the government's handling of the horsemeat scandal where products were withdrawn but in some cases not tested either for horsemeat or bute."
Veterinary drug bute found in Asda corned beef: here. And here. And here.
Related articles